Apprenticeship

Level 3 Information Communications Technician
Enquire about this apprenticeship
Call our team on 0113 3500 333 Lines open 8am-6pm GMP (Mon-Fri)
Request callback
Connectivity and the prevention of downtime are crucial elements in ensuring your business functions efficiently. The Level 3 Information Communications Technician Apprenticeship will enable you to recruit for technical support roles or upskill existing employees to develop knowledge of IT systems across your organisation.
Information Communications Technicians play a vital role in any business with support for your internal and external customers. This involves responsibility for the smooth day-to-day running of IT and telecoms infrastructure. The Level 3 Information Communications Technician is designed to provide organisations with a more competent and qualified workforce, while increasing employee motivation, enhancing job prospects and wellbeing.
Key information
Duration

13 months plus assessment

Study modes

Online teaching, coaching and workplace development

Qualifications Achieved

Level 3 Information Communications Technician
How does the Information Communications Technician Apprenticeship benefit your business?
Businesses are increasingly reliant on their IT systems to operate effectively. This programme is beneficial to current and aspiring IT engineers who can help to ensure that business critical systems continue to function.
The Level 3 Information Communications Technician Apprenticeship enables your businesses to hire new talent into technical support roles or upskill existing employees to develop their knowledge of IT systems that are used across your organisation.
The programme covers the end-to-end operating model for delivering technical support throughout a business and has three pathways – Support Technician, Network Technician and Digital Communications Technician.
This apprenticeship provides great progression opportunities and upon successful completion, further study is available on the Level 4 Network Engineer Apprenticeship and Level 6 Digital and Technology Solutions Professional Degree Apprenticeship.
Typical job roles include: 1st & 2nd Line Support Telecoms Technician, Cloud Technician, Communications Technician, Cyber/Security Support, Data Centre Support Technician, 1st Line Support, Help Desk Support, IT Field Technician, IT Support analyst. IT Support Officer, Maintenance Support Technician, Network Field Operative, Network Support, Office IT Technician, Telecommunications Technician.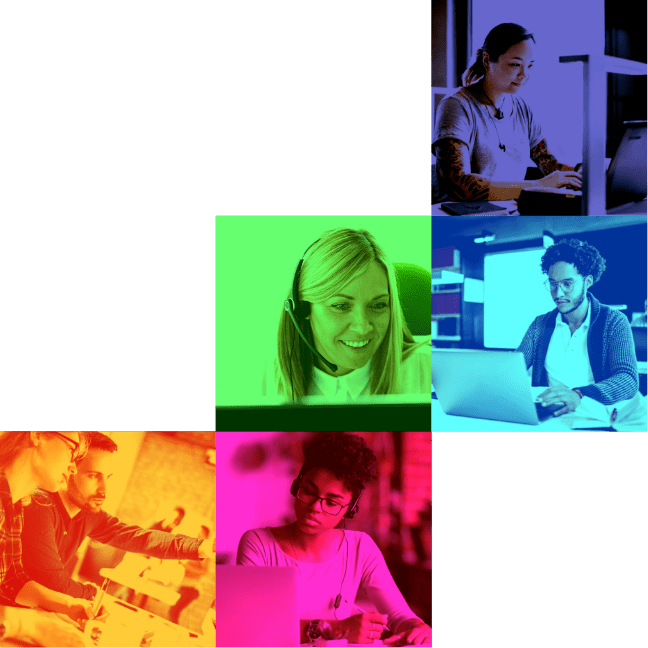 What does the Information Communications Technician Apprenticeship offer to your employees?
As a qualified Level 3 Information Communications Technician, your employees will be able to:
Efficiently operate and control your ICT infrastructure – physical or virtual hardware, software, network services and data storage.
Use infrastructure management tools to automate the provisioning, testing, deployment and monitoring of infrastructure components.
Prioritise systems support tasks and monitor and maintaining system performance.
Maintain regulatory, legal and professional standards.
Support the information systems needs for your business.
What will your employees learn?
We ensure your employees receive the necessary knowledge, skills and behaviours that are not only required to meet industry standards but to provide organisations like yours with the skill sets to gain competitive advantages within the market.
Programme modules
Introduction to IT Support
Working in IT Support
Stability and Resilience
Testing and Problem Solving
Introduction to Networks
Extended Networks
Security
Cloud Systems
Support Teams
Knowledge your employees will gain
A qualified Level 3 Information Communications Technician knows:
Approaches to back up and storage solutions.
Basic elements of technical documentation and its interpretation.
Principles of root cause problem solving using fault diagnostics for troubleshooting.
Principles of basic network addressing for example binary.
Principles of cloud. and cloud-based services. virtual networks and components.
Different types of maintenance and preventative measures to reduce the incidence of faults.
Key principles of security including the role of People, Product and Process in secure systems for example access and encryption requirements.
Principles of physical networks, operating systems, hardware system architectures and devices.
Principles of remote operation of devices including how to deploy and securely integrate mobile devices into a network.
Principles of disaster recovery, how a disaster recovery plan works and their role within it.
Principles of Test Plans, their role and significance.
Principles of OSI layers, cloud and network architecture (including Wi-Fi), DNS / DHCP, LANS and WANS.
Awareness of Cloud platforms, such as AWS, Azure, or GCP.
Principles of network protocols, API's and Web Services.
The different types of cloud storage, back up procedures and their importance.
Principles of databases and migration.
Key principles of Cloud Security and firewalls.
Awareness of DevOps methodology and tools, such as Puppet, Chef, Git, Docker.
Principles of digital test and diagnostic equipment usage.
Skills your employees will develop
A qualified Level 3 Information Communications Technician can:
Interpret and prioritise internal or external customer's requirements in line with organisation's policy.
Apply the appropriate tools and techniques to undertake fault finding and rectification.
Operate safely and securely across platforms and responsibilities maintaining the security of personal data of internal and external stakeholders.
Install or undertake basic software upgrades, either physically or remotely.
Establish and diagnose the extent of the IT support task, in line with the organisation's policies and Service Level Agreements.
Provide remote/F2F support to resolve customer requirements.
Identify and scope the best solution informed by the system data associated with the task.
Test and evaluate the system's performance and compliance with customer requirements.
Use basic scripting to execute the relevant tasks for example PowerShell, Linux.
Carry out routine maintenance across systems, (such as IT, Communications), ensuring organisational compliance at all times.
Apply the necessary security, in line with access and/or encryption requirements.
Use a range of Cabling or Connectors equipment in line with technical requirements for example physically or remotely.
Test and evaluate network environments and monitor performance and usage of a network.
Deploy applications on a network and monitor network-related workloads including DNS and firewalls.
Set up storage and data access for staff.
Carry out routine maintenance across network systems, including installing or undertaking basic upgrades.
Establish digital communication or telecommunications systems through, for example cabling and connecting equipment.
How is the Information Communications Technician Apprenticeship structured?
The Level 3 Information Communications Technician is comprised of 13 months of training followed by up to four months for assessment.
Our remote learning approach gives your employees the best of both worlds – live lessons with an expert trainer, combined with the flexibility to learn in an environment that suits them.
Your employees keep the same apprenticeship trainer throughout the apprenticeship, who delivers all training sessions and sets and marks all workplace based projects.
Your employees are supported by a dedicated progress co-ordinator every step of the way. Regular review meetings every four weeks ensure we're able to keep your employees on track and spot any potential issues before they arise.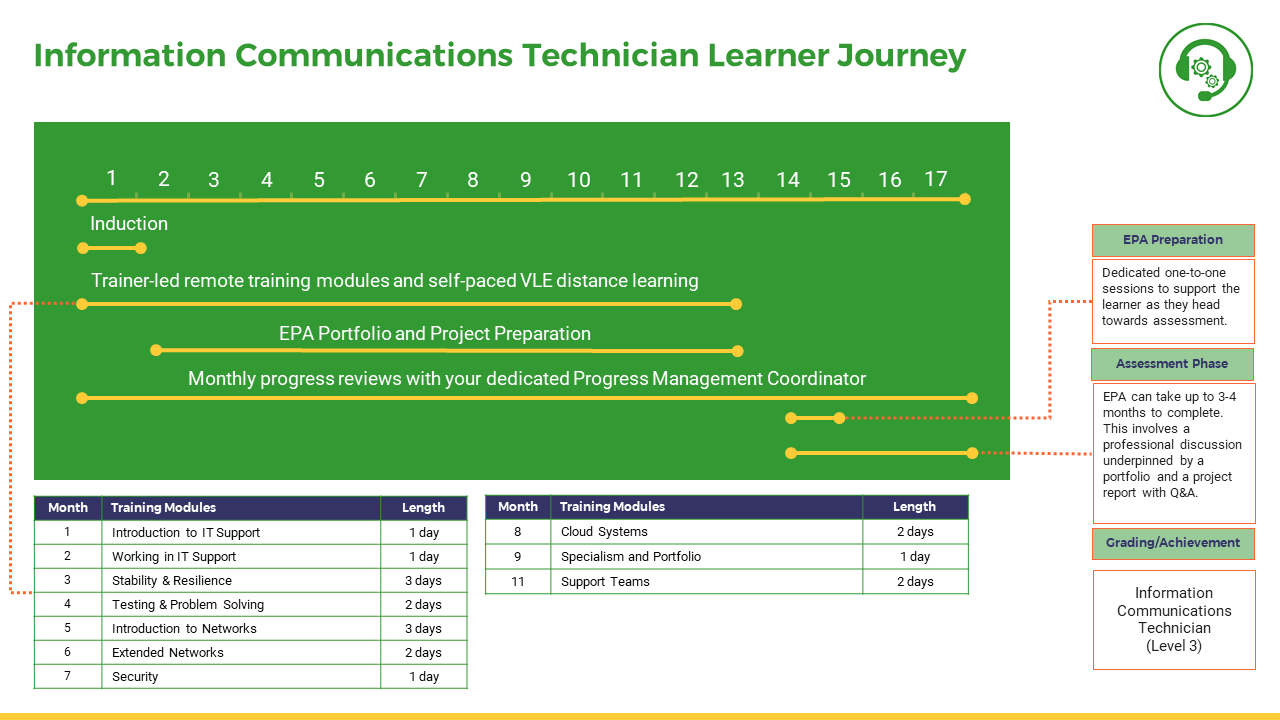 Assessment
Each programme has a standard set of competencies – Knowledge, Skills and Behaviours – that are focused on throughout the programme.
The Knowledge, Skills and Behaviours are evaluated through the End-Point Assessment (EPA), which is completed in the last month of the apprenticeship. The EPA is conducted by an external assessor and will include the following elements that need to be completed in order to finish the apprenticeship.
A summative portfolio
A professional discussion
A project report with Q&A
Entry requirements:
Entry requirements vary depending on the employer's requirements.
Minimum 5 GCSEs with grades 9 to 4/A* to C, including English and maths.
Apprentices that don't have GCSE English and maths at the required level undertake mandatory Functional Skills as part of the apprenticeship to achieve Level 2 prior to End Point Assessment.
Cost
This programme costs £15,000 – all covered through the Apprenticeship Levy. Even if your business doesn't pay into the Levy, the Government funds 95% of all apprenticeship training, with your business only paying 5%.