Apprenticeship

Level 3 Digital Marketer
Enquire about this apprenticeship
Call our team on 0113 3500 333 Lines open 8am-6pm GMP (Mon-Fri)
Request callback
Businesses can no longer afford to ignore their online presence. Regardless of your sector or industry, your customers are looking for you, and wanting to engage with you, online. The Level 3 Digital Marketer Apprenticeship provides a solid foundation of practical skills to get your business where your customers need you to be.
The Level 3 Digital Marketer Apprenticeship is built around the latest and most commonly used digital marketing platforms and tools. The apprenticeship covers all aspects of digital marketing – from content creation and website building, to social media, email marketing, SEO, PPC and campaign analytics. It also includes Google's globally recognised Google Fundamentals of Marketing qualification.
Key information
Duration

13 months plus assessment

Study modes

Online teaching, coaching and workplace development

Qualifications Achieved

Level 3 Digital Marketer
How does the Digital Marketer Apprenticeship benefit your business?
In today's modern world it is almost impossible to escape the influence and ever-increasing reliance upon digital technology. Digital Marketers play a vital role in any businesses' sales and marketing strategy. Using a variety of digital tools, they help businesses increase brand awareness, generate sales leads and build customer loyalty with timely and relevant engagement.
Recent statistics show a 52% increase in demand for employees with digital marketing skills which highlights the importance for employers to recruit new staff or upskill existing employees in this rapidly rising field. The Level 3 Digital Marketer Apprenticeship will give your employees knowledge of proven marketing principles that have underpinned business strategies for decades, and practical skills to help your business stand out from  the ever-increasingly competitive marketplace.
Typical job roles include: Digital Marketing Assistant, Digital Marketing Executive, Digital Marketing Co-ordinator, Campaign Executive, Social Media Executive, Content Co-ordinator, Email Marketing Assistant, SEO Executive, Analytics Executive, Digital Marketing Technologist.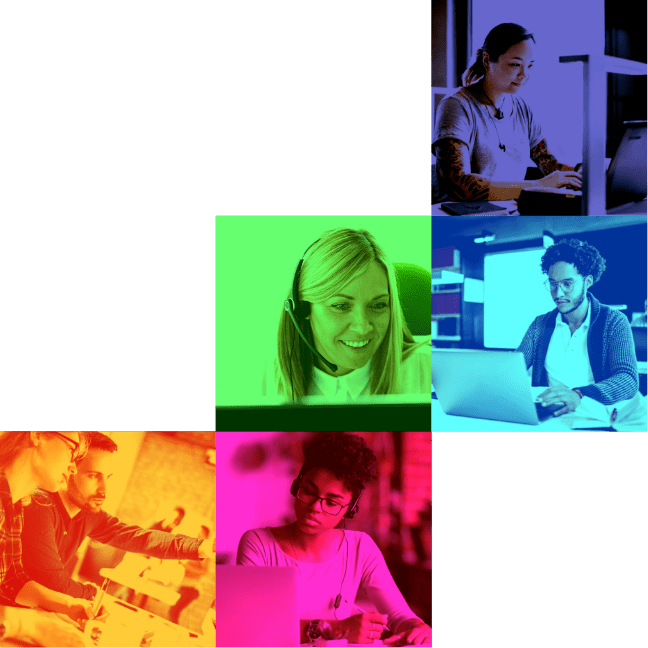 What does the Digital Marketer Apprenticeship offer to your employees?
As a qualified Level 3 Digital Marketer, your employees will be able to:
Source, plan, develop and deploy digital content across a variety of channels including websites and social media.
Execute multi-channel digital campaigns using a variety of online tools, platforms and channels.
Optimise your key marketing channels including search engine ranking.
Monitor and evaluate channel and campaign performance using different analytical tools.
Adopt a test and learn approach to digital marketing activities, making recommendations for improvement.
What will your employees learn?
We ensure your employees receive the necessary knowledge, skills and behaviours that are not only required to meet industry standards but to provide organisations like yours with the skill sets to gain competitive advantages within the market.
Programme modules
Marketing Principles
Principles of Coding
Google Fundamentals of Digital Marketing
Google Analytics IQ
Content Marketing: Campaign Planning
Content Marketing: Content Capture and Creation
Content Marketing: Post-Production
Content Marketing: CMS Website Creation
Digital Marketing Upskilling Toolbox
Knowledge your employees will gain
A qualified Level 3 Digital Marketer knows:
How to apply basic marketing principles and the customer lifecycle.
The role of customer relationship marketing to generate business growth.
The main components of digital and social media strategies.
How to apply the principles of search marketing, search engine optimisation, e-mail marketing, web analytics and metrics, mobile apps and Pay-Per-Click and understands how these can work together.
The similarities and differences, including positives and negatives, of all the major digital and social media platforms.
How digital platforms integrate in to the working environment.
How to follow the required security levels necessary to protect data across digital and social media platforms.
The basic principles of coding.
Skills your employees will develop
A qualified Level 3 Digital Marketer can:
Apply apply a high level of written communication skills for a range of audiences and digital platforms and with regard to the sensitivity of communication.
Analyse and contribute information on the digital environment to inform short and long term digital communications strategies and campaigns.
Apply effective, secure and appropriate solutions using a wide variety of digital technologies and tools over a range of platforms and user interfaces to achieve marketing objectives.
Review, monitor and analyses online activity to measure and evaluate success, providing recommendations for improvements.
Create basic analytical dashboards using appropriate digital tools.
Plan, develop and implement digital campaigns across a variety of digital media platforms.
Develop and interpret marketing briefs and plans.
How is the Digital Marketer Apprenticeship structured?
The Level 3 Digital Marketer is comprised of 13 months of training followed by up to one month for assessment.
Our remote learning approach gives your employees the best of both worlds – live lessons with an expert trainer, combined with the flexibility to learn in an environment that suits them.
Your employees keep the same apprenticeship trainer throughout the apprenticeship, who delivers all training sessions and sets and marks all workplace based projects.
Your employees are supported by a dedicated progress co-ordinator every step of the way. Regular review meetings every four weeks ensure we're able to keep your employees on track and spot any potential issues before they arise.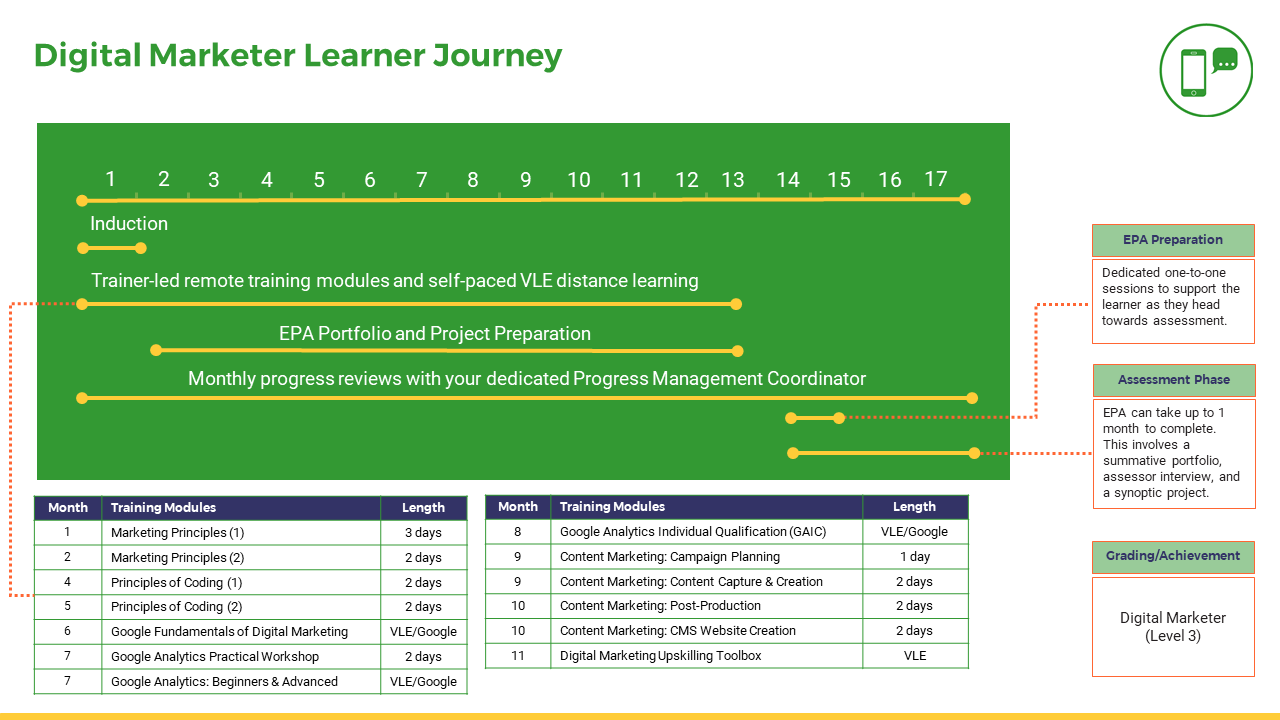 Assessment
Each programme has a standard set of competencies – Knowledge, Skills and Behaviours – that are focused on throughout the programme.
The Knowledge, Skills and Behaviours are evaluated through the End-Point Assessment (EPA), which is completed in the last month of the apprenticeship. The EPA is conducted by an external assessor and will include the following elements that need to be completed in order to finish the apprenticeship.
A summative portfolio
An assessor interview
A synoptic project
Entry requirements:
Entry requirements vary depending on the employer's requirements.
Minimum 5 GCSEs with grades 9 to 4/A* to C, including English and maths.
Apprentices that don't have GCSE English and maths at the required level undertake mandatory Functional Skills as part of the apprenticeship to achieve Level 2 prior to End Point Assessment.
Cost
This programme costs £11,000 – all covered through the Apprenticeship Levy. Even if your business doesn't pay into the Levy, the Government funds 95% of all apprenticeship training, with your business only paying 5%.