Apprenticeship

Level 4 Business Analyst
Enquire about this apprenticeship
Call our team on 0113 3500 333 Lines open 8am-6pm GMP (Mon-Fri)
Request callback
Business Analysts ensure your business is operating as efficiently and effectively as it can. By identifying and analysing your IT systems, processes and practices, they make recommendations for changes and improvements that help you to reduce time and cost and increase commercial growth.
The Level 4 Business Analyst Apprenticeship will skill your employees to deep dive into your business and ask the right questions of the right stakeholders. You will gain valuable insight into opportunities for your business to fine tune it's operation and maximise efficiency and return.
Key information
Duration

15 months plus assessment

Study modes

Online teaching, coaching and workplace development

Qualifications Achieved

Level 4 Business Analyst
How does the Business Analyst Apprenticeship benefit your business?
Business analysts are responsible for bridging the gap between IT and the business using data analytics to assess processes, determine requirements and deliver data-driven recommendations and reports to executives and stakeholders.
The Level 4 Business Analyst Apprenticeship will introduce skills into your business that can align and streamline your technical capabilities to your strategic business objectives. Through engaging with stakeholders across the business, your employees will be able to identify and understand how data-driven changes to process, products, services, software and hardware can improve efficiencies and add value. Balanced against what is technologically feasible and financially and functionally reasonable, your employees will then make recommendations for change, the implementation of which they will oversee.
In this highly commercially relevant apprenticeship, your business will benefit from the knowledge and skills to carry out the full business analysis life-cycle – assessing need, eliciting information, developing requirements, monitoring and control of implementation and evaluation. The apprenticeship includes the option to undertake the Agile Scrum Master qualification and the BCS International Diploma in Business Analysis.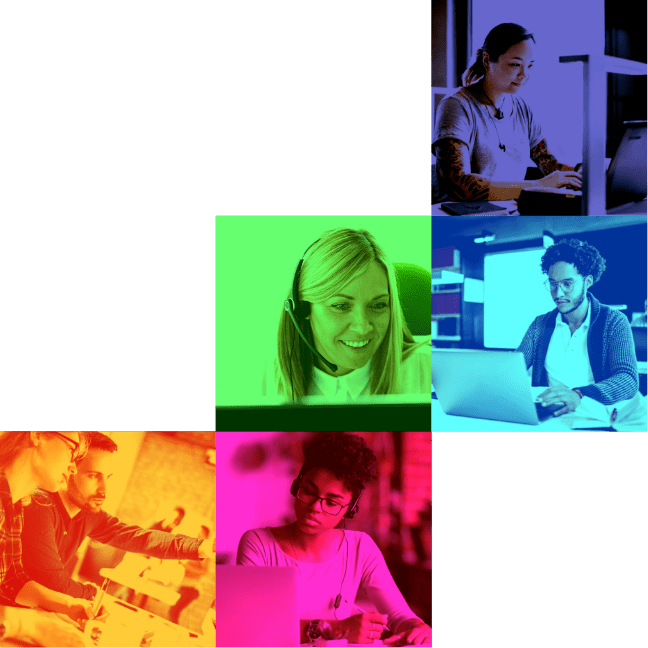 What does the Business Analyst Apprenticeship offer to your employees?
As a qualified Level 4 Business Analyst, your employees will be able to:
Investigate the wants, needs, problems and opportunities for your business.
Analyse performance of your processes and suggest recommendations for improvement.
Identify your data requirements to improve your business.
Create data models to illustrate how your data is represented within your business systems.
Asses costs, benefits and impacts of suggested changes to your business.
What will your employees learn?
We ensure your employees receive the necessary knowledge, skills and behaviours that are not only required to meet industry standards but to provide organisations like yours with the skill sets to gain competitive advantages within the market.
Programme modules
Business Analysis Foundation
Business Analysis Practice
Business Analysis Process Modelling
Business Analysis Requirements Engineering
Agile Scrum Master
Knowledge your employees will gain
A qualified Level 4 Business Analyst knows:
Business change and system development life cycles, including the use of appropriate methodologies and the impact of organisational culture and context.
The principles, features and differences of waterfall and agile methodologies for project delivery and software development.
Approaches to conducting internal and external environmental analysis of an industry domain.
The purpose of process modelling and the importance of an organisational view of business processes.
Different approaches to document business processes including when it is most appropriate to use each.
Techniques to elicit requirements, including when it is most appropriate to use each.
Approaches to categorise, validate and prioritise requirements including gap analysis.
The importance of considering user experience, accessibility and usability requirements in the design of digital solutions.
The different phases of testing of business and system changes.
The importance and the principles of engaging internal and external stakeholders.
The purpose and importance of business change impact assessment.
Knowledge your employees will develop
A qualified Level 4 Business Analyst can:
Apply a range of structured investigation techniques to a business situation to include data needs, current processes, and requirements.
Produce an outline definition of a business situation using an appropriate technique.
Apply appropriate techniques to identify and analyse problems and opportunities within a business situation, including recommendations for change.
Support the identification and presentation of proposed actions to stakeholders in order to gain agreement for further analysis activity and validation.
Model and analyse business processes using relevant techniques, standards, notation and software tools.
Document clear functional and non-functional requirements in line with local standards.
Analyse documented requirements to remove duplication, conflict and overlap.
Support the development of simple data models using relevant techniques, standards, notation and software tools.
Identify actions required to move from the current to future business situation.
Support the development of cost/benefit analysis for proposed business changes.
Evaluate and document the key impacts on people, process, organisation, technology and information.
How is the Business Analyst Apprenticeship structured?
The Level 4 Business Analyst is comprised of 15 months of training followed by up to four months for assessment.
Our remote learning approach gives your employees the best of both worlds – live lessons with an expert trainer, combined with the flexibility to learn in an environment that suits them.
Your employees keep the same apprenticeship trainer throughout the apprenticeship, who delivers all training sessions and sets and marks all workplace based projects.
Your employees are supported by a dedicated progress co-ordinator every step of the way. Regular review meetings every four weeks ensure we're able to keep your employees on track and spot any potential issues before they arise.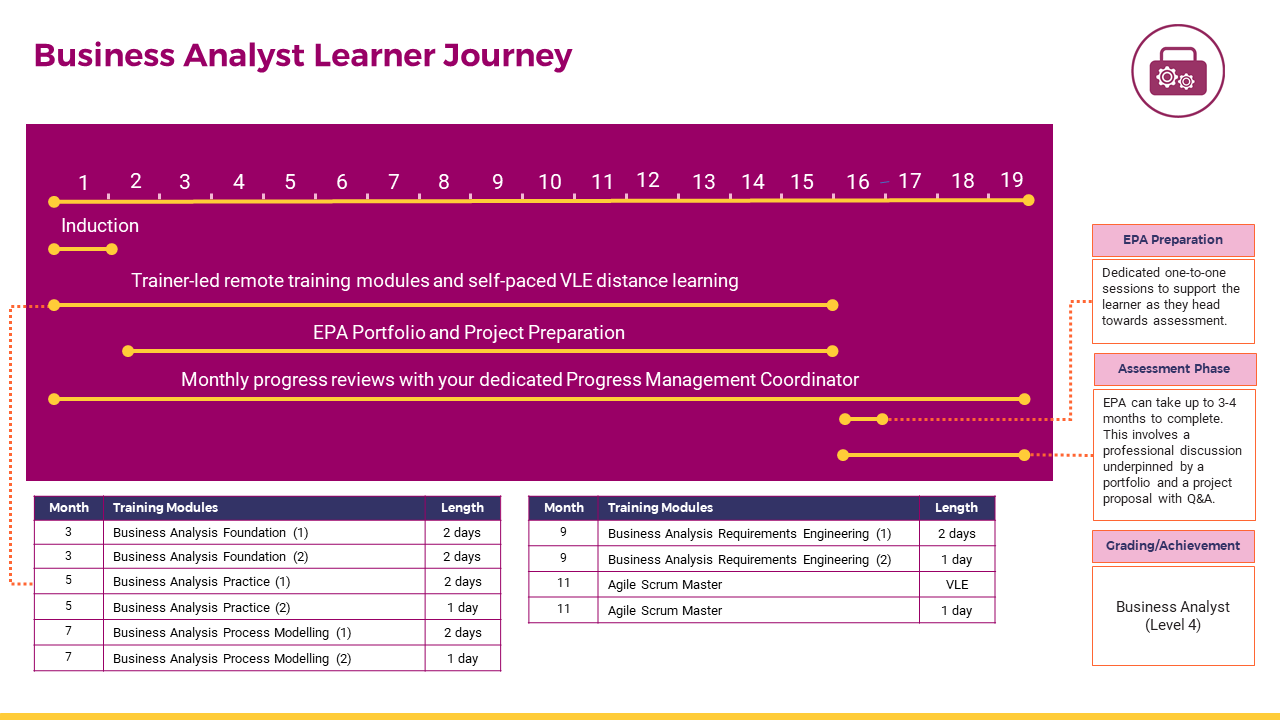 Assessment
Each programme has a standard set of competencies – Knowledge, Skills and Behaviours – that are focused on throughout the programme.
The Knowledge, Skills and Behaviours are evaluated through the End-Point Assessment (EPA), which is completed in the last month of the apprenticeship. The EPA is conducted by an external assessor and will include the following elements that need to be completed in order to finish the apprenticeship.
A portfolio
A professional discussion
A project proposal with Q&A
Entry requirements:
Entry requirements vary depending on the employer's requirements.
A Level 3 qualification such as A levels, NVQs, a BTEC or a Level 3 Apprenticeship.
Minimum 5 GCSEs with grades 9 to 4/A* to C, including English and maths.
Apprentices that don't have GCSE English and maths at the required level undertake mandatory Functional Skills as part of the apprenticeship to achieve Level 2 prior to End Point Assessment.
Cost
This programme costs £18,000 – all covered through the Apprenticeship Levy. Even if your business doesn't pay into the Levy, the Government funds 95% of all apprenticeship training, with your business only paying 5%.