Apprenticeship

Level 4 Network Engineer
Enquire about this apprenticeship
Call our team on 0113 3500 333 Lines open 8am-6pm GMP (Mon-Fri)
Request callback
Developing and maintaining a robust and resilient IT network is imperative if your business is to operate effectively. From communications to file storage, security to accessibility, your business' IT network is what makes it all happen. Every business needs to ensure they have the skills in their IT function to proactively monitor the health of their network to ensure its reliability, stability and effective functioning, as well as promptly rectify problems if they occur.
The Level 4 Network Engineer Apprenticeship is designed to give your employees the ability to optimise and stay in control of every aspect of your IT network. You can use the the apprenticeship to either help your business recruit specialist talent into you IT function, or upskill existing IT employees wanting to broaden their skills.
Key information
Duration

15 months plus assessment

Study modes

Online teaching, coaching and workplace development

Qualifications Achieved

Level 4 Network Engineer
How does the Network Engineer Apprenticeship benefit your business?
The Level 4 Network Engineer Apprenticeship has been designed to provide your business with the comprehensive knowledge and skills you need to ensure the effective operation of your entire IT function. Your IT Network is the backbone of your business and virtually every single action undertaken by you or your employees relies on it. Every file opened, email sent, phone call made, data stored or information shared is fundamentally underpinned, and consequently only happens, because of your IT network.
Through the apprenticeship, your employees will gain the knowledge and skills needed to configure a robust, secure and scalable network that can withstand change and growth over time. They will learn how to monitor network health based on utilisation, taking proactive preventative measures, such as identifying bottle necks and rectifying problems before they happen.
The Level 4 Network Engineer Apprenticeship covers every aspect of your business' network components, including hardware, software, operating systems, security and devices. Your employees will understand fundamental principles of networks, the top to bottom architecture of a network, critical security measures and considerations when configuring, monitoring and fixing a network.
This apprenticeship provides great progression opportunities and upon successful completion, further study is available on the Level 6 Digital and Technology Solutions Professional Degree Apprenticeship.
Typical job roles include: Desk Based Engineer, Dynamic Network Engineer, Field Based Engineer, Infrastructure Engineer, Network Administrator, Network Architect, Network Engineer, Systems Engineer.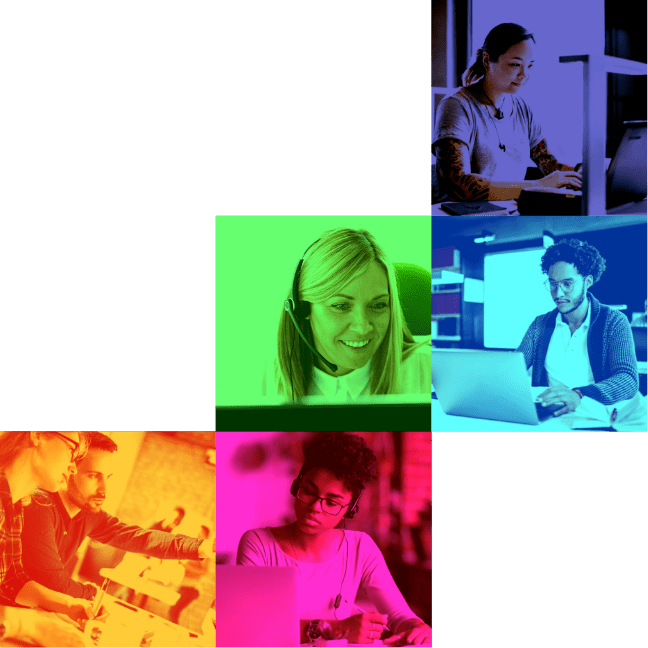 What does the Network Engineer Apprenticeship offer to your employees?
As a qualified Level 4 Network Engineer, your employees will be able to:
Install, configure and test network components, including optimisation and maintenance.
Investigate, identify and resolve technical performance issues in networks.
Apply the appropriate tools and techniques when securely operating and testing networks.
Acquire and analyse network performance data to monitor network activity.
What will your employees learn?
We ensure your employees receive the necessary knowledge, skills and behaviours that are not only required to meet industry standards but to provide organisations like yours with the skill sets to gain competitive advantages within the market.
Programme modules
Cisco IT Essentials
Network Principles
Network Systems and Architecture
Network Security
Knowledge your employees will gain
A qualified Level 4 Network Engineer knows:
The causes and consequences of network and IT infrastructure failures and the techniques for systems performance and optimisation.
The architecture of typical IT systems, including hardware, OS, server, virtualisation, voice, cloud and applications.
Diagnostic techniques and tools to interrogate and gather information regarding systems performance.
Service Level Agreements (SLAs) and their application to delivering network engineering activities in line with contractual obligations and customer service.
Their role in Business Continuity and Disaster Recovery.
The purposes and uses of ports, devices, applications, protocols and services at their appropriate OSI and, or, TCP or IP layers.
The concepts and characteristics of routing and switching.
The characteristics of network topologies, types and technologies.
Wireless technologies and configurations, cloud concepts and functions of network services.
The different types of network maintenance and troubleshooting methodologies for network and IT infrastructure.
How to integrate a server into a network and the types of security threats to networks and IT infrastructure assets.
How to use tools to automate network tasks and approaches to change management.
Skills your employees will develop
A qualified Level 4 Network Engineer can:
Apply the appropriate tools and techniques when securely operating and testing networks.
Install and configure the elements required to maintain and manage a secure network.
Implement techniques to monitor and record systems performance in line with defined specifications.
Maintain security and performance of the system against known and standard threats.
Apply the appropriate tools and techniques to identify systems performance issues.
Apply the appropriate tools and techniques to gather information to troubleshoot issues and isolate, repair or escalate faults.
Upgrade, apply and test components to systems configurations ensuring that the system meets the organisation's requirements and minimises downtime.
Interpret information received from a manager, customer or technical specialist and accurately implement the defined requirements.
Monitor, identify and implement required maintenance procedures.
Implement techniques to optimise systems performance in line with defined specifications.
Operate securely and apply the appropriate process, policies and legislation within their business responsibilities.
Apply the appropriate level of responsibility when planning and prioritising work tasks.
Apply the relevant numerical skills (Binary, dotted decimal notation) required to meet the defined specifications.
Ensure compliance of network engineering outputs with change management processes.
How is the Network Engineer Apprenticeship structured?
The Level 4 Network Engineer is comprised of 15 months of training followed by up to four months for assessment.
Our remote learning approach gives your employees the best of both worlds – live lessons with an expert trainer, combined with the flexibility to learn in an environment that suits them.
Your employees keep the same apprenticeship trainer throughout the apprenticeship, who delivers all training sessions and sets and marks all workplace based projects.
Your employees are supported by a dedicated progress co-ordinator every step of the way. Regular review meetings every four weeks ensure we're able to keep your employees on track and spot any potential issues before they arise.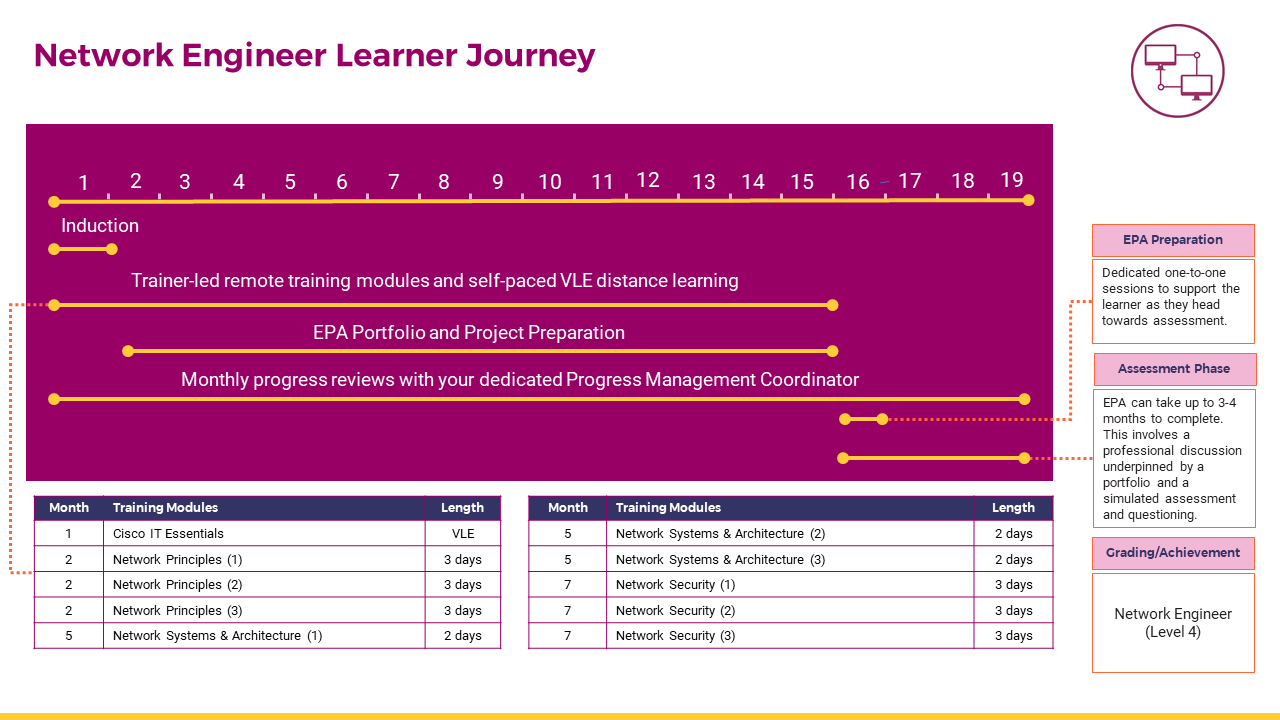 Assessment
Each programme has a standard set of competencies – Knowledge, Skills and Behaviours – that are focused on throughout the programme.
The Knowledge, Skills and Behaviours are evaluated through the End-Point Assessment (EPA), which is completed in the last month of the apprenticeship. The EPA is conducted by an external assessor and will include the following elements that need to be completed in order to finish the apprenticeship.
A portfolio
A professional discussion
Asimulated assessment and questioning
Entry requirements:
Entry requirements vary depending on the employer's requirements.
A Level 3 qualification such as A levels, NVQs, a BTEC or a Level 3 Apprenticeship.
Minimum 5 GCSEs with grades 9 to 4/A* to C, including English and maths.
Apprentices that don't have GCSE English and maths at the required level undertake mandatory Functional Skills as part of the apprenticeship to achieve Level 2 prior to End Point Assessment.
Cost
This programme costs £17,000 – all covered through the Apprenticeship Levy. Even if your business doesn't pay into the Levy, the Government funds 95% of all apprenticeship training, with your business only paying 5%.