Apprenticeship

Level 4 Software Developer
Enquire about this apprenticeship
Call our team on 0113 3500 333 Lines open 8am-6pm GMP (Mon-Fri)
Request callback
Software is everywhere. And good software is invisible – offering a seamless, quick, simple method for an action to be completed. In today's digital world, the capability of your software and the experience it offers its users – whether external or internal to your business – can be the difference between having competitive edge or falling behind.
The Level 4 Software Developer Apprenticeship is the next level up in our software engineering offering. It has been designed to turn junior software technicians into the creative mastermind behind all sorts of computer programs. Your employees will become skilled in how to deliver bespoke software solutions to suit your business' needs, developing upgrades to enhance existing applications, and ensuring the quality of end-user experience through rigorous testing.
Key information
Duration

15 months plus assessment

Study modes

Online teaching, coaching and workplace development

Qualifications Achieved

Level 4 Software Developer
How does the Software Developer Apprenticeship benefit your business?
The Level 4 Software Developer Apprenticeship gives your business the ability to enhance and grow its software development capability.
Software developers "make software for the world to use." Whether you develop software for external customers, or use software internally, your business can benefit from the opportunities that clever software can bring. But in order to harness this, your business needs the skills in your employees.
The Level 4 Software Developer Apprenticeship will give your employees the tools to help your business work smarter. The ability to create bespoke software, uniquely designed to meet specific and individual needs gives you the ability to enhance almost every aspect of your business' operation. Whether that is creating a market leading customer experience, product innovation, or just optimising internal processes and information sharing to save time, money and resource.
Software Developers operate at all stages of the software lifecycle – researching, designing, implementing, and testing software. Through the Level 4 Software Developer Apprenticeship, your employees will understand and apply different software development methodologies, systems development, software languages, programming skills and using SQL.
This apprenticeship provides great progression opportunities and upon successful completion, further study is available on the Level 6 Digital and Technology Solutions Professional Degree Apprenticeship.
Typical job roles include: Application Developer, Mobile Application Developer, Software Developer, Web developer.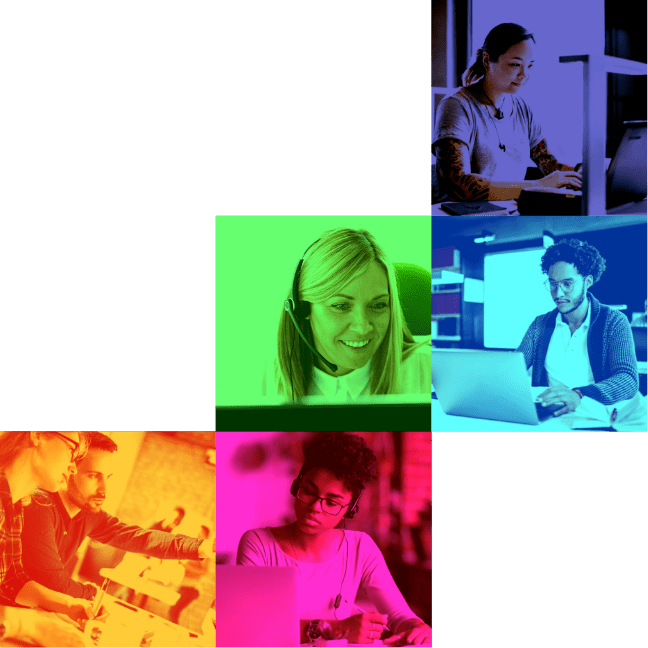 What does the Software Developer Apprenticeship offer to your employees?
As a qualified Level 4 Software Developer, your employees will be able to:
Create logical and maintainable codes for software development.
Apply security best practice to the software solution throughout the software development lifecycle.
Apply appropriate recovery techniques to ensure the software solution being developed is not lost.
Implement accurate and effective change control.
Undertake unit testing of solutions, with appropriate levels of test code coverage, to identify and resolve issues.
Apply suitable 'bug fixes' based on severity and priority.
What will your employees learn?
We ensure your employees receive the necessary knowledge, skills and behaviours that are not only required to meet industry standards but to provide organisations like yours with the skill sets to gain competitive advantages within the market.
Programme modules
Introduction to Software Development and C#
Software Development Methodologies
Systems Development Essentials
Developing Software using SQL
Software Languages
Programming Skills
MTA Introduction to Programming Using Java
Knowledge your employees will gain
A qualified Level 4 Software Developer knows:
All stages of the software development life-cycle (what each stage contains, including the inputs and outputs).
Roles and responsibilities within the software development lifecycle (who is responsible for what).
The roles and responsibilities of the project life-cycle within your organisation, and your role.
How best to communicate using the different communication methods and how to adapt appropriately to different audiences.
The similarities and differences between different software development methodologies, such as agile and waterfall.
How teams work effectively to produce software and how to contribute appropriately.
Software design approaches and patterns, to identify reusable solutions to commonly occurring problems.
Algorithms, logic and data structures relevant to software development for example:- arrays- stacks- queues- linked lists- trees- graphs- hash tables- sorting algorithms- searching algorithms- critical sections and race conditions.
Principles and uses of relational and non-relational databases.
Software designs and functional or technical specifications.
Software testing frameworks and methodologies.
Skills your employees will develop
A qualified Level 4 Software Developer can:
Create logical and maintainable code, link code to data sets, test code and analyse results to correct errors found using unit testing.
Develop effective user interfaces and create simple software designs to effectively communicate understanding of the program.
Conduct a range of test types, such as Integration, System, User Acceptance, Non-Functional, Performance and Security testing.
Identify and create test scenarios.
Apply structured techniques to problem solving, debug code and understand the structure of programmes in order to identify and resolve issues.
Create analysis artefacts, such as use cases and/or user stories.
Build, manage and deploy code into the relevant environment.
Apply an appropriate software development approach according to the relevant paradigm (for example object oriented, event driven or procedural).
Follow software designs and functional or technical specifications.
Follow testing frameworks and methodologies.
Follow required approaches to continuous integration, version and source control.
Apply algorithms, logic and data structures.
Interpret and implement a given design whist remaining compliant with security and maintainability requirements.
How is the Software Developer Apprenticeship structured?
The Level 4 Software Developer is comprised of 15 months of training followed by up to four months for assessment.
Our remote learning approach gives your employees the best of both worlds – live lessons with an expert trainer, combined with the flexibility to learn in an environment that suits them.
Your employees keep the same apprenticeship trainer throughout the apprenticeship, who delivers all training sessions and sets and marks all workplace based projects.
Your employees are supported by a dedicated progress co-ordinator every step of the way. Regular review meetings every four weeks ensure we're able to keep your employees on track and spot any potential issues before they arise.
Assessment
Each programme has a standard set of competencies – Knowledge, Skills and Behaviours – that are focused on throughout the programme.
The Knowledge, Skills and Behaviours are evaluated through the End-Point Assessment (EPA), which is completed in the last month of the apprenticeship. The EPA is conducted by an external assessor and will include the following elements that need to be completed in order to finish the apprenticeship.
A portfolio
A professional discussion
A workplace observation
Entry requirements:
Entry requirements vary depending on the employer's requirements.
A Level 3 qualification such as A levels, NVQs, a BTEC or a Level 3 Apprenticeship.
Minimum 5 GCSEs with grades 9 to 4/A* to C, including English and maths.
Apprentices that don't have GCSE English and maths at the required level undertake mandatory Functional Skills as part of the apprenticeship to achieve Level 2 prior to End Point Assessment.
Cost
This programme costs £18,000 – all covered through the Apprenticeship Levy. Even if your business doesn't pay into the Levy, the Government funds 95% of all apprenticeship training, with your business only paying 5%.