Apprenticeship

Level 3 Data Technician
Enquire about this apprenticeship
Call our team on 0113 3500 333 Lines open 8am-6pm GMP (Mon-Fri)
Request callback
The Data Technician Apprenticeship will help you recruit entry-level data specialists and upskill existing employees. This will help your business to enhance analytic capabilities that provide meaningful value through better reports, dashboards and easy-to-understand visualisations using a range of tools.
The ability to make decisions using data is a necessity and key advantage for any business, but it can only help firms if they have the resources to extract meaningful conclusions. Many organisations are unable to capitalise on the data within their business due to a shortage of experts with the relevant core data skills.
The Data Technician Apprenticeship will help your business to hire entry-level data specialists or upskill existing employees who are working with data. If you have data within your organisation then you can transform that data into knowledge which will enable you to identify patterns, make better decisions, predict trends and increase business competitiveness.
Key information
Duration

13 months plus assessment

Study modes

Online teaching, coaching and workplace development

Qualifications Achieved

Level 3 Data Technician
How does the Data Technician Apprenticeship benefit your business?
This programme is geared towards your professional population who will be able to maximise the value of data assets with visualisation tools such as Power BI. They have the ability to work with organisational data, retrieving it from multiple sources including Microsoft Excel, online services, business information systems and relational databases.
Data technicians will build scalable data models while cleaning and transforming data. This enables analytic capabilities that provide meaningful value to your business through reports, dashboards and easy-to-comprehend visualisations.
This apprenticeship provides great progression opportunities and upon successful completion, further study is available on the Level 4 Data Analyst Apprenticeship, or Level 6 Digital and Technology Solutions Professional Degree Apprenticeship or Level 7 MSc Applied Data Analytics Apprenticeship.
Typical job roles include: Data Support Analyst, Data Technician, Junior Data Analyst, Junior Information Analyst.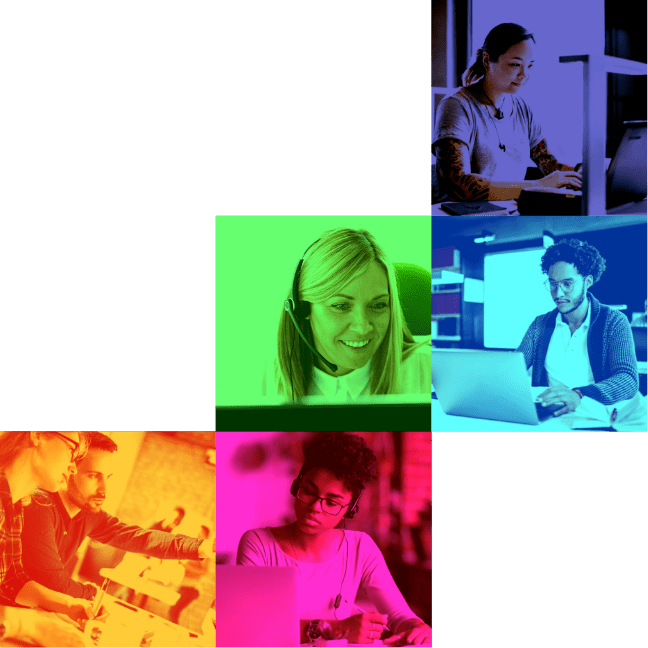 What does the Data Technician Apprenticeship offer to your employees?
As a qualified Level 3 Data Technician, your employees will be able to:
Identify the right data sources for your business to inform decision making.
Collect, compile and cleanse data accurately and securely.
Identify, anaylse and interpret data, trends and patterns.
Produce dashboards and reports to aid visualization and comparison.
Summarise and present the results of data analysis, making recommendations for business improvement.
Store and archive data in line with data protection legislation.
What will your employees learn?
We ensure your employees receive the necessary knowledge, skills and behaviours that are not only required to meet industry standards but to provide organisations like yours with the skill sets to gain competitive advantages within the market.
Programme modules
Foundation Maths
Introduction to Data Theory
Excel Data Fundamentals
Excel Handling Data and Pivot Tables
Power BI Fundamentals
Databases and SQL Foundation
SQL in Practice
Advanced Excel/R or Python Fundamentals
Statistical and Data Analysis Tools
Knowledge your employees will gain
A qualified Level 3 Data Technician knows:
The different types of data, common sources of data, data formats and their importance for analysis and data architecture.
How to access, extract collate and format data from a range of already identified sources.
Presentation tools to visualise and review the characteristics of data.
How to undertake blending of data from multiple sources.
Algorithms, and how they work using a step-by-step solution to a problem, or rules to follow to solve the problem and the potential to use automation.
How to filter details, focusing on information relevant to the data project.
Basic statistical methods and simple data modelling to extract relevant data and normalise unstructured data.
The range of common data quality issues that can arise e.g. misclassification, duplicate entries, spelling errors, obsolete data, compliance issues and interpretation/ translation of meaning.
Different methods of validating data and how to take corrective action.
Legal and regulatory requirements e.g. Data Protection, Data Security, Intellectual Property Rights (IPR), Data sharing, marketing consent, personal data definition.
The significance of customer issues, problems, business value, brand awareness, cultural awareness/ diversity, accessibility, internal/ external audience, level of technical knowledge and profile in a business context.
The role of data in the context of of the digital world including the use of eternal trusted open data sets, how data underpins every digital interaction and connectedness across the digital landscape including applications, devises, IoT, customer centricity.
Skills your employees will develop
A qualified Level 3 Data Technician can:
Source and migrate data from already identified different sources and collect, format and save datasets.
Clean data i.e. remove duplicates, typos, duplicate entries, out of date data, parse data (e.g. format telephone numbers according to a national standard) and test and assess confidence in the data and its integrity.
Blend data sets from multiple sources and present in format appropriate to the task.
 Manipulate and link different data sets as required.
Apply basic statistical methods and algorithms and use different tools to identify trends and patterns in data.
Apply cross checking techniques for identifying faults and data results for data project requirements.
Produce clear and consistent technical documentation using standard organisational templates.
Summarise and explain data and results to different audiences in a way that aids understanding.
How is the Data Technician Apprenticeship structured?
The Level 3 Data Technician is comprised of 13 months of training followed by up to three months for assessment.
Our remote learning approach gives your employees the best of both worlds – live lessons with an expert trainer, combined with the flexibility to learn in an environment that suits them.
Your employees keep the same apprenticeship trainer throughout the apprenticeship, who delivers all training sessions and sets and marks all workplace based projects.
Your employees are supported by a dedicated progress co-ordinator every step of the way. Regular review meetings every four weeks ensure we're able to keep your employees on track and spot any potential issues before they arise.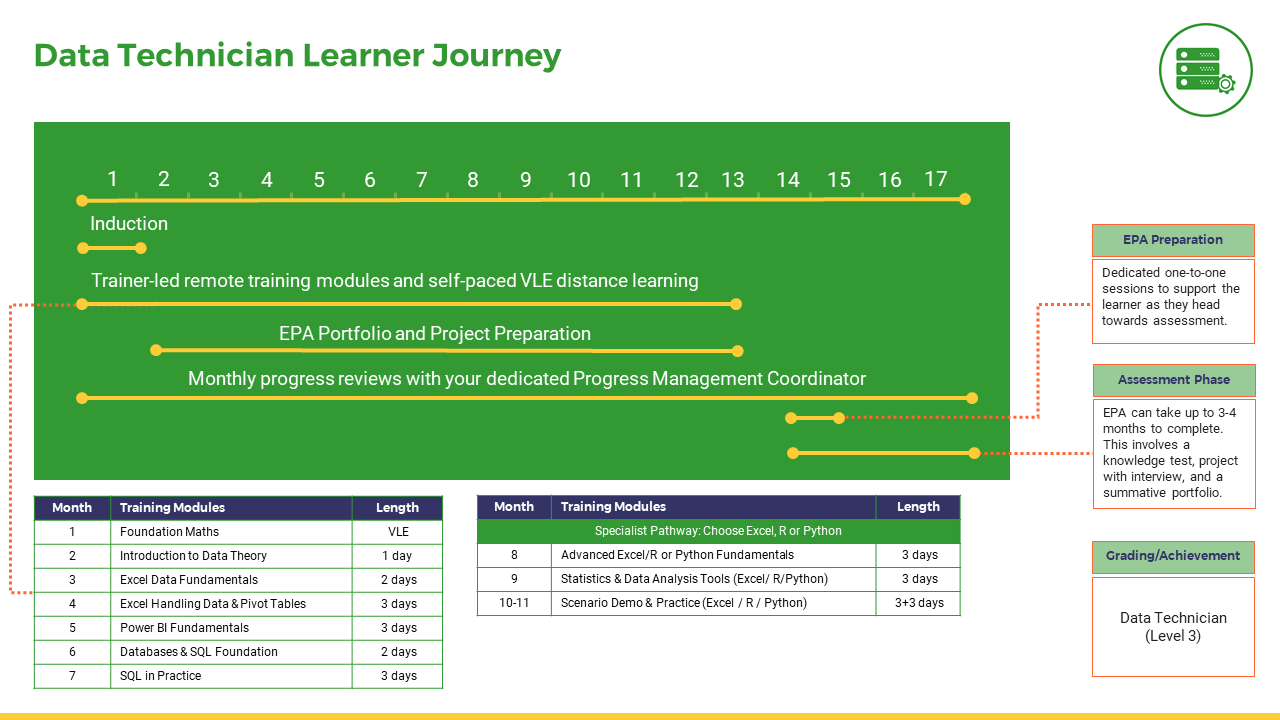 Assessment
Each programme has a standard set of competencies – Knowledge, Skills and Behaviours – that are focused on throughout the programme.
The Knowledge, Skills and Behaviours are evaluated through the End-Point Assessment (EPA), which is completed in the last month of the apprenticeship. The EPA is conducted by an external assessor and will include the following elements that need to be completed in order to finish the apprenticeship.
A summative portfolio
A knowledge test
A project with interview
Entry requirements:
Entry requirements vary depending on the employer's requirements.
Minimum 5 GCSEs with grades 9 to 4/A* to C, including English and maths.
Apprentices that don't have GCSE English and maths at the required level undertake mandatory Functional Skills as part of the apprenticeship to achieve Level 2 prior to End Point Assessment.
Cost
This programme costs £12,000 – all covered through the Apprenticeship Levy. Even if your business doesn't pay into the Levy, the Government funds 95% of all apprenticeship training, with your business only paying 5%.