Apprenticeship

Level 4 Cyber Security Technologist
Enquire about this apprenticeship
Call our team on 0113 3500 333 Lines open 8am-6pm GMP (Mon-Fri)
Request callback
Cyber attacks are the fastest growing online threat to your business and your people. In today's world of total reliance on the internet and cloud based platforms and software, your financial and customer data, IT infrastructure, website, people and general daily operational functioning, are permanently at risk.
The Level 4 Cyber Security Technologist Apprenticeships helps you regain control of your security. Offering three different pathways dependent on your needs, you can introduce or strengthen the skills you need to protect  your business from the unseen threat that comes with living in a digital world.
Key information
Duration

15 months plus assessment

Study modes

Online teaching, coaching and workplace development

Qualifications Achieved

Level 4 Cyber Security Technologist
How does the Cyber Security Technologist Apprenticeship benefit your business?
Fighting cyber security threats is a multi-billion-pound industry, and one that continues to grow as threats from the likes of malware, ransomware, phishing, DDoS attacks and hacking increase. With almost all data and functionality based online, cyber security attacks have the potential to completely ruin businesses – not to mention people's lives – in the process.
The Level 4 Cyber Security Apprenticeship will give your employees full knowledge and understanding of security concepts and technology and how to mitigate risks arising from threats. They will be equipped to identify where vulnerabilities may exist in your business and develop and deploy the necessary measures to both strengthen security and eliminate potential threats.
The apprenticeship allows your business to choose from three pathways: Risk Analyst, Defend and Respond,  and Security Engineer. Regardless of pathway, your employees will be trained to handle core elements of cyber security, including operating within the legal, regulatory and ethical framework of cyber security. The different pathways offer you the choice of specialising your employees in either identifying threat, proactive prevention of attack, or technical implementation of security measures.
Typical job roles include: Cyber Operations Manager, Cyber Risk Analyst, Intelligence Researcher, Security Analyst, Security Architect.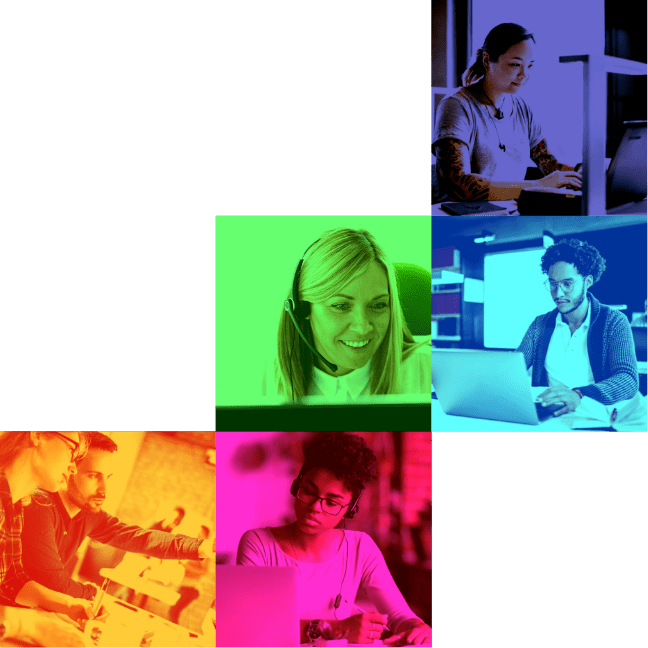 What does the Cyber Security Technologist Apprenticeship offer to your employees?
As a qualified Level 4 Cyber Security Technologist, your employees will be able to:
Discover potential vulnerabilities, threats and hazards in your systems, services and processes.
Develop security designs and configure, deploy and use appropriate cyber security technology to protect your business.
Identify, analyse and develop security cases to defend against potential threats.
Write program code or scripts to meet design requirements that improve your cyber security.
Understand latest attack techniques and recommend ways to defend against them.
What will your employees learn?
We ensure your employees receive the necessary knowledge, skills and behaviours that are not only required to meet industry standards but to provide organisations like yours with the skill sets to gain competitive advantages within the market.
Programme modules
Introduction to Cyber Security
Legislation and Ethics
Networking and System Security
Identifying and Responding to Threats
Risk Assessment
Specialism Module: Security Engineer or Risk Analyst or Defend and Respond
Knowledge your employees will gain
A qualified Level 4 Cyber Security Technologist knows:
Principles of networks: OSI and TCP/IP models, data, protocols and how they relate to each other; the main routing protocols; the main factors affecting network performance including typical failure modes in protocols and approaches to error control; virtual networking.
The main types of common attack techniques; also the role of human behaviour, including the significance of the 'insider threat'. Including: how attack techniques combine with motive and opportunity to become a threat. Techniques and strategies to defend against attack techniques and mitigate hazards.
The significance of identified trends in cyber security threats and understand the value and risk of this analysis. How to deal with emerging attack techniques (including 'zero day'), hazards and vulnerabilities relevant to the digital systems and business environment.
Cyber incident response processes, incident management processes and evidence collection/preservation requirements to support incident investigation.
How to analyse employer or customer requirements to derive security objectives and taking account of the threats and overall context develop a security case which sets out the proposed security measures in the context with reasoned justification.
Common security architectures and methodologies; be aware of reputable security architectures that incorporates hardware and software components, and sources of architecture patterns and guidance. How cyber security technology components are typically deployed in digital systems to provide security functionality including: hardware and software to implement security controls.
The basic terminology and concepts of cryptography; common cryptography techniques in use; the importance of effective key management and the main techniques used; legal, regulatory and export issues specific to the use of cryptography.
Risk assessment and audit methodologies and approaches to risk treatment; approaches to identifying the vulnerabilities in organisations and security management systems; the threat intelligence lifecycle; the role of the risk owner in contrast with other stakeholders.
The function and features of significant digital system components; typical architectures; common vulnerabilities in digital systems; principles and common practice in digital system security.
Programming or scripting language.
Skills your employees will develop
A qualified Level 4 Cyber Security Technologist can:
Discover vulnerabilities in a system by using a mix of research and practical exploration.
Analyse and evaluate security threats and hazards to a system or service or processes.
Research and investigate common attack techniques and relate these to normal and observed digital system behaviour and recommend how to defend against them. Interpret and demonstrate use of external source of vulnerabilities (e.g. OWASP, intelligence sharing initiatives, open source).
Undertake security risk assessments and propose basic remediation advice.
Source and analyse security cases and describe what threats, vulnerability or risks are mitigated and identify any residual areas of concern.
Configure, deploy and use computer, digital network and cyber security technology.
Recommend improvements to the cyber security posture based on research into future potential cyber threats and considering threat trends.
Design, build, test and troubleshoot a network.
Design systems employing encryption and ue tools, techniques and processes to actively prevent breaches to digital system security.
Develop plans for incident response and business continuity.
Recognise anomalies in observed digital system data structures (including by inspection of network packet data structures) and digital system behaviours (including by inspection of protocol behaviours) and by inspection of log files and by investigation of alerts raised by automated tools including SIEM tools.
Configure digital system monitoring and analysis tools (e.g. SIEM tools), taking account of threat & vulnerability intelligence, indicators of compromise.
Undertake root cause analysis of events and make recommendations to reduce false positives and false negatives.
How is the Cyber Security Technologist Apprenticeship structured?
The Level 4 Cyber Security Technologist is comprised of 13 months of training followed by up to four months for assessment.
Our remote learning approach gives your employees the best of both worlds – live lessons with an expert trainer, combined with the flexibility to learn in an environment that suits them.
Your employees keep the same apprenticeship trainer throughout the apprenticeship, who delivers all training sessions and sets and marks all workplace based projects.
Your employees are supported by a dedicated progress co-ordinator every step of the way. Regular review meetings every four weeks ensure we're able to keep your employees on track and spot any potential issues before they arise.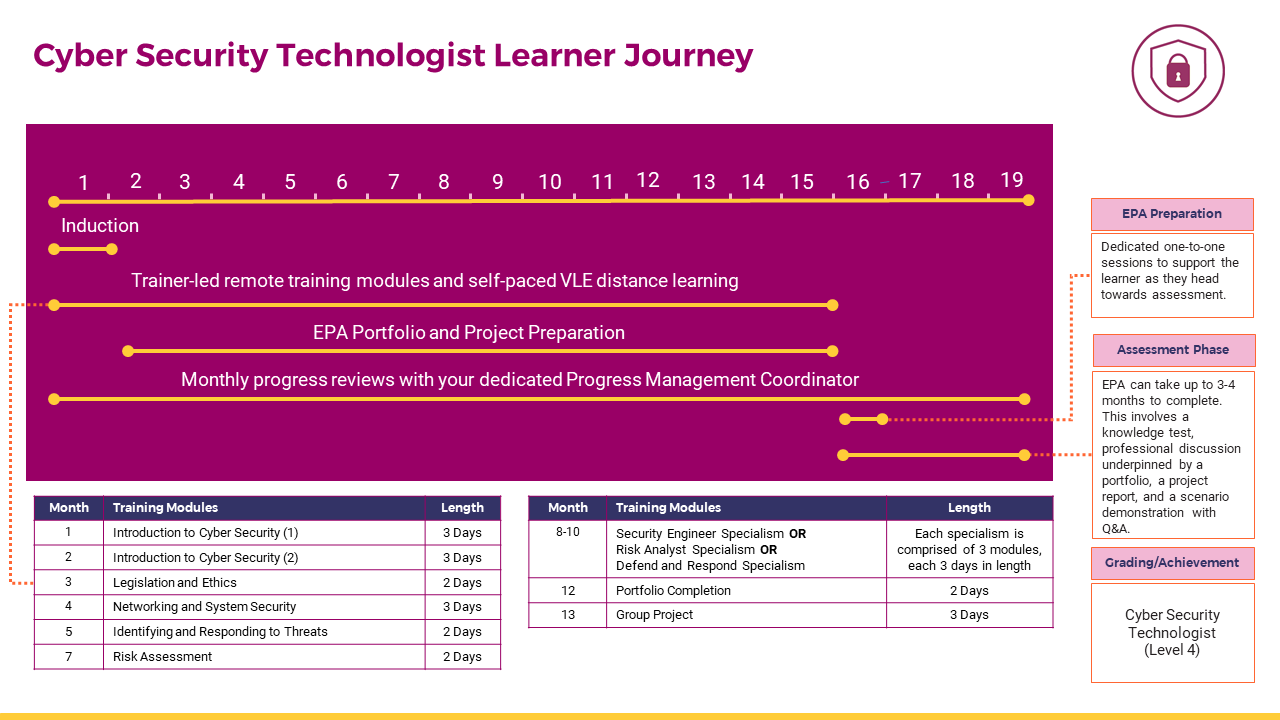 Assessment
Each programme has a standard set of competencies – Knowledge, Skills and Behaviours – that are focused on throughout the programme.
The Knowledge, Skills and Behaviours are evaluated through the End-Point Assessment (EPA), which is completed in the last month of the apprenticeship. The EPA is conducted by an external assessor and will include the following elements that need to be completed in order to finish the apprenticeship.
A portfolio
A professional discussion
A knowledge test
Project Report
A scenario demonstration with Q&A
Entry requirements:
Entry requirements vary depending on the employer's requirements.
A Level 3 qualification such as A levels, NVQs, a BTEC or a Level 3 Apprenticeship.
Minimum 5 GCSEs with grades 9 to 4/A* to C, including English and maths.
Apprentices that don't have GCSE English and maths at the required level undertake mandatory Functional Skills as part of the apprenticeship to achieve Level 2 prior to End Point Assessment.
Cost
This programme costs £18,000 – all covered through the Apprenticeship Levy. Even if your business doesn't pay into the Levy, the Government funds 95% of all apprenticeship training, with your business only paying 5%.