Apprenticeship

Level 4 Software Tester
Enquire about this apprenticeship
Call our team on 0113 3500 333 Lines open 8am-6pm GMP (Mon-Fri)
Request callback
Whether your business develops software or relies on it for every day operations, ensuring that software is reliable, fit-for-purpose, and effective is crucial. The Level 4 Software Tester Apprenticeship gives your employees the tools, techniques and skills to ensure and maintain quality control when developing software. They will be equipped to build and test high-quality code across multiple platforms and layers, preserving the robustness and integrity of software.
Key information
Duration

15 months plus assessment

Study modes

Online teaching, coaching and workplace development

Qualifications Achieved

Level 4 Software Tester
How does the Software Tester Apprenticeship benefit your business?
Few can argue against the need for quality control when developing software. Defects can slow business transactions, information sharing, data processing and in extreme cases, a bug or defect can degrade interconnected systems or cause serious malfunctions.
Testers typically design and prepare test plans and conduct software testing as appropriate to ensure that software is fit for purpose. They document and report the results of testing activities and have a good understanding of the software lifecycle and software development practices.
The Level 4 Software Tester Apprenticeship has been developed to play a significant role in testing that the delivery of your software operates as intended. Your employees will gain an understanding of the full scope of the software testing process, from understanding requirements, preparing test data, writing test cases, recording, reporting and communicating results, raising defects as well as a range of testing levels and types. They will gain the ISTQB Foundation certificate and this will back up and reinforce their practical skills. They will also gain a basic foundation in programming with the Java Fundamentals course which includes Unit Testing.
Typical job roles include: Software Tester, Software Test Analyst.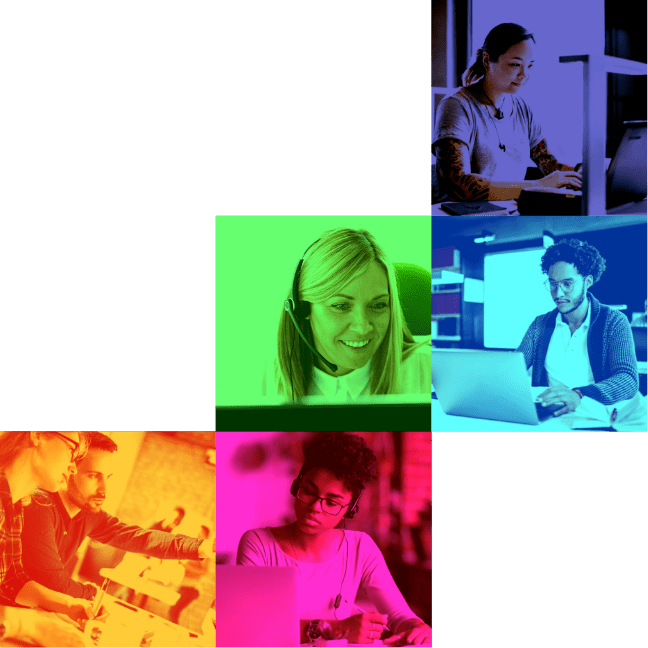 What does the Software Tester Apprenticeship offer to your employees?
As a qualified Level 4 Software Tester, your employees will be able to:
Ensure that the software used within your business operates as intended.
Design and prepare test plans and conduct software testing as appropriate to ensure your software is fit for purpose.
Collect and interpret the results of testing and make appropriate recommendations.
Understand the software lifecycle and apply software development practices.
Document and report test results.
Store, manage and share test data in a secure manner.
What will your employees learn?
We ensure your employees receive the necessary knowledge, skills and behaviours that are not only required to meet industry standards but to provide organisations like yours with the skill sets to gain competitive advantages within the market.
Programme modules
Testing Principles & Fundamentals
Testing in the Software Lifecycle
Testing Techniques and Tools
Build & Test Software – Orientation
Build & Test Software – Practical
Accessibility Testing
Basic Programming Concepts & OO Development
Arrays, Functions & Error Handling in Java
Introduction to Unit Testing in Java
Ethical Hacking – Testing to Improve Security
ISTQB Examination (Optional)
Knowledge your employees will gain
A qualified Level 4 Software Tester:
Understands and can apply the basic concepts of software testing including testing types; test procedures; testing techniques; testing tools and testing terms.
Understands how to use and apply automated test tools.
Understands the importance of accuracy and clear documentation of software tests.
Understands how to use bug tracking tools.
Understands and can communicate the differences between software testing and verification.
Understands industry standard software development paradigms and methods (including. Object Oriented, procedural and agile) to conduct testing.
Understands that software should be 'secure by design' and how to test for security requirements.
Understands the range and features of software test commonly used (Unit Testing, Integration Testing, Functional and Non-Functional Testing, System Testing, Stress Testing, Performance Testing, Usability Testing, Acceptance Testing, Regression Testing and Exploratory Testing).
Understands how to set up and configure testing packages.
Understands the role of software testing within the wider systems development life cycle.
Understands the need for conformance to specific standards where appropriate (including data protection, health informatics, safety critical, etc) related to software testing.
Skills your employees will develop
A qualified Level 4 Software Tester can:
Implements software testing procedures on software applications (including desktop, web, mobile, embedded, mainframe) to ensure agreed errors and security issues are identified, recorded, prioritised and corrected before release.
Reviews software requirements and specifications for software functionality and security, and defines comprehensive tests and conditions.
Designs simple test strategies for non-complex projects.
Analyses test requirements and designs and prepares a test plan.
Designs and builds test cases, test scripts, and test procedures, with expected results.
Develops and collects representative and realistic test data.
Conducts a range of different software testing types (including Unit Testing, Integration Testing, Functional and Non- Functional Testing, System Testing, Stress Testing, Performance Testing, Usability Testing, Acceptance Testing, Regression Testing and Exploratory Testing); interpreting and executing sets of moderately complex test scripts using agreed methods and standards.
Accurately records the outcomes of test activities and maintains accurate test records and reports.
Assesses test results against expected results and acceptance criteria and through traceability to requirements.
Presents and communicates results effectively using appropriate communication styles and media.
Operates the organisation's software testing tools effectively and follows procedures and techniques correctly.
Complies with relevant legislation and internal/external standards related to software testing and software security.
Completes allocated tasks in accordance with the organisation's reporting and quality systems.
Operates within service level agreements.
How is the Software Tester Apprenticeship structured?
The Level 4 Software Tester is comprised of 15 months of training followed by up to two months for assessment.
Our remote learning approach gives your employees the best of both worlds – live lessons with an expert trainer, combined with the flexibility to learn in an environment that suits them.
Your employees keep the same apprenticeship trainer throughout the apprenticeship, who delivers all training sessions and sets and marks all workplace based projects.
Your employees are supported by a dedicated progress co-ordinator every step of the way. Regular review meetings every four weeks ensure we're able to keep your employees on track and spot any potential issues before they arise.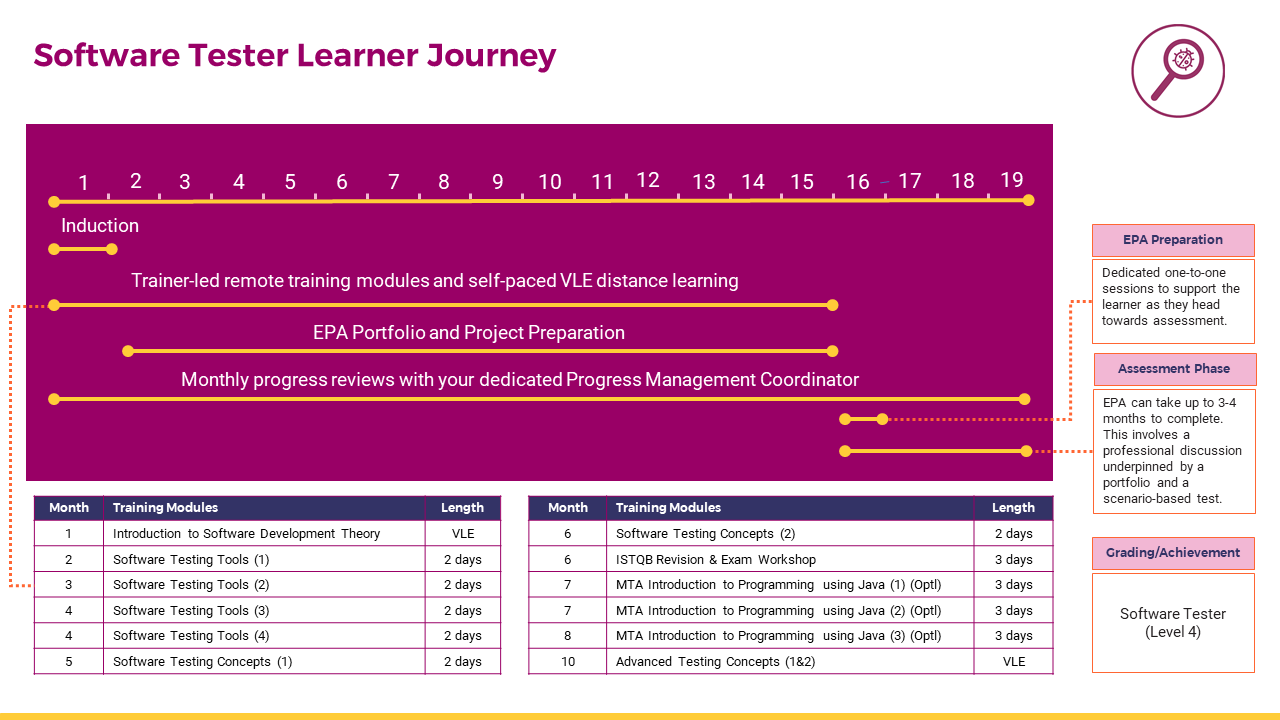 Assessment
Each programme has a standard set of competencies – Knowledge, Skills and Behaviours – that are focused on throughout the programme.
The Knowledge, Skills and Behaviours are evaluated through the End-Point Assessment (EPA), which is completed in the last month of the apprenticeship. The EPA is conducted by an external assessor and will include the following elements that need to be completed in order to finish the apprenticeship.
A portfolio
A professional discussion
A scenario based test
Entry requirements:
Entry requirements vary depending on the employer's requirements.
A Level 3 qualification such as A levels, NVQs, a BTEC or a Level 3 Apprenticeship.
Minimum 5 GCSEs with grades 9 to 4/A* to C, including English and maths.
Apprentices that don't have GCSE English and maths at the required level undertake mandatory Functional Skills as part of the apprenticeship to achieve Level 2 prior to End Point Assessment.
Cost
This programme costs £18,000 – all covered through the Apprenticeship Levy. Even if your business doesn't pay into the Levy, the Government funds 95% of all apprenticeship training, with your business only paying 5%.