Apprenticeship

Level 3 Software Development Technician
Enquire about this apprenticeship
Call our team on 0113 3500 333 Lines open 8am-6pm GMP (Mon-Fri)
Request callback
A Software Development Technician typically works as part of a software development team, to build simple software components  – whether web, mobile or desktop applications – to be used by other members of the team as part of larger software development projects.
They will interpret simple design requirements for discrete components of the project under supervision. The approach will typically include implementing code, which other team members have developed, to produce the required component. Software Development Technicians also form part of the software testing process to ensure that their specific component functions in the way it is intended.
Key information
Duration

13 months plus assessment

Study modes

Online teaching, coaching and workplace development

Qualifications Achieved

Level 3 Software Development Technician
How does the Software Development Technician Apprenticeship benefit your business?
The Level 3 Software Development Technician Apprenticeship gives your business the ability to introduce basic software development capability into your IT function, or strengthen your existing software specialists with pipeline talent.
A Software Development Technician will typically be involved in every day software projects such as your website, mobile applications, or general programming of systems and platforms alongside higher level software developers.  The Level 3 Software Development Apprenticeship is designed to give your employees the essential skills required to write code, undertake functional programming and understand and apply User Interface (UI) Design. Employees will develop skills in coding as part of a team in a software development lifecycle, including good coding practices, testing code, understanding version control and the management of code during build and release.
If your business is a smaller business looking for in-house software support, the apprenticeship will equip your employees to locally manage key platforms such as your website or customer portals. If your business already has an established software capability, the apprenticeship is ideal for aiding your workforce planning and future-proofing your pipeline of internal specialist skill.
This apprenticeship provides great progression opportunities and upon successful completion, further study is available on the Level 4 Software Developer Apprenticeship.
Typical job roles include: Software Development Technician, Junior Developer, Junior Web Developer, Junior Application Developer, Junior Mobile App Developer, Junior Games Developer, Junior Software Developer, Junior Application Support Analyst, Junior Programmer, Assistant Programmer and Automated Test Developer.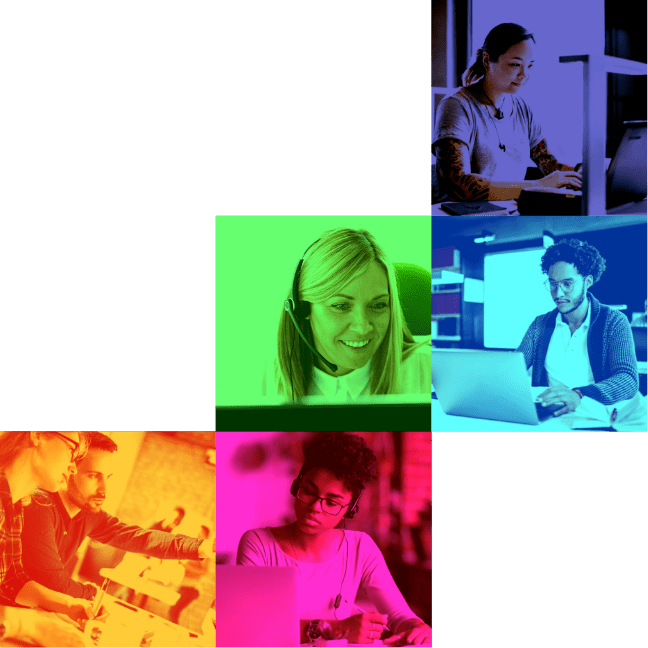 What does the Software Development Technician Apprenticeship offer to your employees?
As a qualified Level 3 Software Development Technician, your employees will be able to:
Implement secure code in appropriate languages of different types.
Support the communication of software solutions and ideas to technical and non-technical stakeholders.
Conduct a range of test types.
Build scripts in line with work instructions for deployment into the relevant environment.
Design simple software solutions to meet a requirement using tools and techniques.
What will your employees learn?
We ensure your employees receive the necessary knowledge, skills and behaviours that are not only required to meet industry standards but to provide organisations like yours with the skill sets to gain competitive advantages within the market.
Programme modules
Introduction to Software Development
Software Development Fundamentals
Planning & Design
User Interfaces & Experiences
Building & Development
Data Sources & SQL
Physical, Virtual & Cloud Technologies
Troubleshooting & Testing
Delivering & Deployment
Knowledge your employees will gain
A qualified Level 3 Software Development Technician knows:
The structure of software applications and all stages of the software development lifecycle.
The role of configuration management and version control systems and how to apply them.
How to effectively test their code (e.g. unit testing).
The context for the development platform (whether web, mobile, or desktop applications).
How to implement code following a logical approach, integrate code into a wider project and connect their code to specified data sources.
How to follow a set of functional and non-functional requirements.
The end user context for the software development activity.
The principles of good interface design and how to apply them.
Database normalisation.
How to build in security to software at the development stage.
Skills your employees will develop
A qualified Level 3 Software Development Technician can:
Write simple code for discrete software components following an appropriate logical approach to agreed standards (whether for web, mobile or desktop applications).
Apply appropriate secure development principles to specific software components all stages of development.
Develop user interfaces as appropriate to the type of component being developed.
Apply industry standard approaches for configuration management and version control to manage code during build and release.
Make simple connections between code and defined data sources as specified.
Functionally test that the deliverables for that component have been met or not.
Follow basic analysis models such as use cases and process maps.
Support Software Developers at the build and test stages of the software development lifecycle.
How is the Software Development Technician Apprenticeship structured?
The Level 3 Software Development Technician is comprised of 13 months of training followed by up to one month for assessment.
Our remote learning approach gives your employees the best of both worlds – live lessons with an expert trainer, combined with the flexibility to learn in an environment that suits them.
Your employees keep the same apprenticeship trainer throughout the apprenticeship, who delivers all training sessions and sets and marks all workplace based projects.
Your employees are supported by a dedicated progress co-ordinator every step of the way. Regular review meetings every four weeks ensure we're able to keep your employees on track and spot any potential issues before they arise.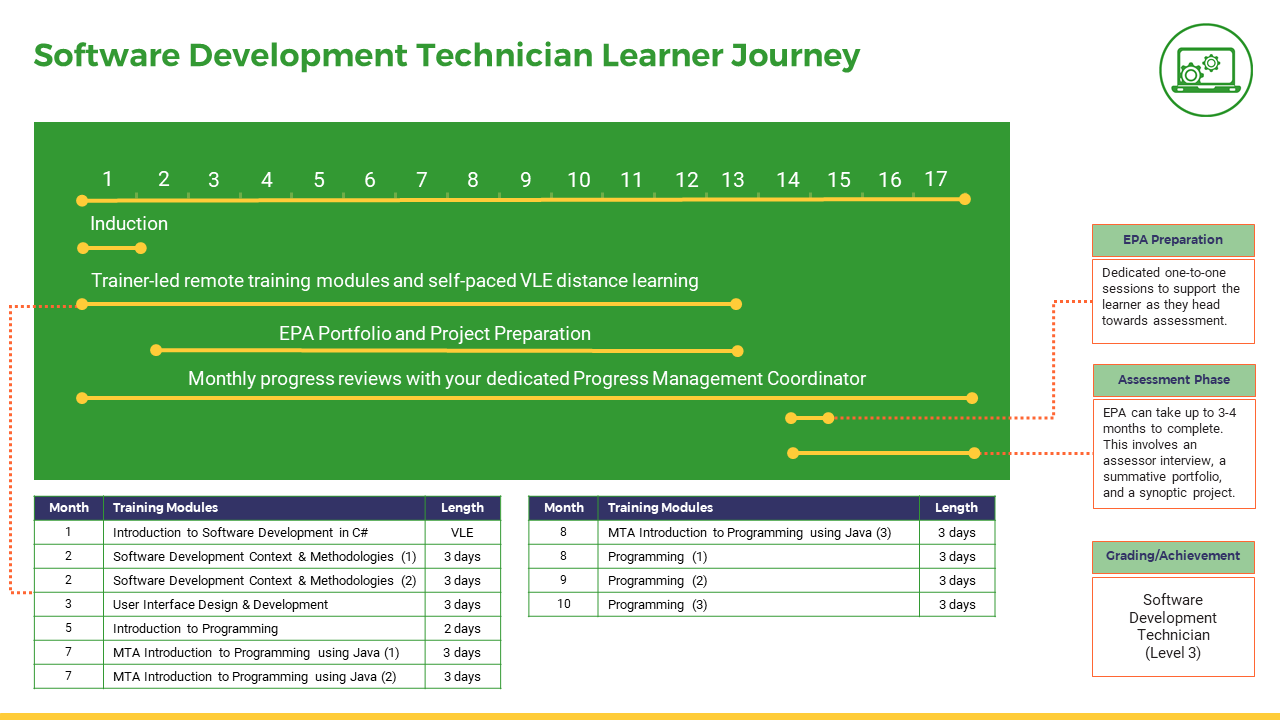 Assessment
Each programme has a standard set of competencies – Knowledge, Skills and Behaviours – that are focused on throughout the programme.
The Knowledge, Skills and Behaviours are evaluated through the End-Point Assessment (EPA), which is completed in the last month of the apprenticeship. The EPA is conducted by an external assessor and will include the following elements that need to be completed in order to finish the apprenticeship.
A summative portfolio
A synoptic project
An assessor interview
Entry requirements:
Entry requirements vary depending on the employer's requirements.
Minimum 5 GCSEs with grades 9 to 4/A* to C, including English and maths.
Apprentices that don't have GCSE English and maths at the required level undertake mandatory Functional Skills as part of the apprenticeship to achieve Level 2 prior to End Point Assessment.
Cost
This programme costs £15,000 – all covered through the Apprenticeship Levy. Even if your business doesn't pay into the Levy, the Government funds 95% of all apprenticeship training, with your business only paying 5%.