Apprenticeship

Level 4 DevOps Engineer
Enquire about this apprenticeship
Call our team on 0113 3500 333 Lines open 8am-6pm GMP (Mon-Fri)
Request callback
It is now argued that DevOps is one of the most sought-after skillsets in the industry. But for many businesses they are only beginning to scratch the surface of embracing a DevOps culture in their organisation by getting developers and IT operations teams communicating.
A DevOps Engineer brings together the best of both worlds. A new way of working, DevOps combines two historically disparate parts of the IT organisation – IT operations and software development – building, testing and maintaining infrastructure and tools to allow for the speedy development and release of software.
The culture was introduced to bridge the areas of development and operations, aiming to reduce waste and generate a greater return on investment for stakeholders and product owners.
Key information
Duration

20 months plus assessment

Study modes

Online teaching, coaching and workplace development

Qualifications Achieved

Level 4 DevOps Engineer
How does the DevOps Engineer Apprenticeship benefit your business?
A Level 4 DevOps Engineer Apprenticeship will enable your business to get valuable working software out in front of active users with increased value and improved quality of your digital services. By bringing together those who develop software with those required to support it in the live environment into a single discipline, your business can reduce time to market and maximise on agility.
Through an efficient and thorough implementation of cloud infrastructure, security, scalability and availability, highly skilled DevOps engineers can work together to offer bespoke commercial solutions. These solutions could include application scalability that lowers operational expenses while enabling your business to best meet client needs. It can also offer your business solutions to data storage that is both low cost and highly secure, subsequently allowing you to meet compliance and governance requirements simultaneously. All processes are able to be automated by your team of highly trained DevOps engineers, affording them greater resources to work on further solutions that are in the interests of your organisation.
The Level 4 DevOps Engineer Apprenticeship is designed to facilitate the development of employees starting to implement these practices, or even those who have already adopted this approach. In addition to employees broadening and enhancing their technical skills, they will be guided to put the user experience first and as a result of which, increased stakeholder and product owner satisfaction.
Typical job roles include: Automation Engineer, Build and Release Engineer, Deployment Engineer, DevOps Engineer, Full Stack Developer, Infrastructure Engineer, Platform Engineer, Reliability Engineer, Site Reliability Engineer.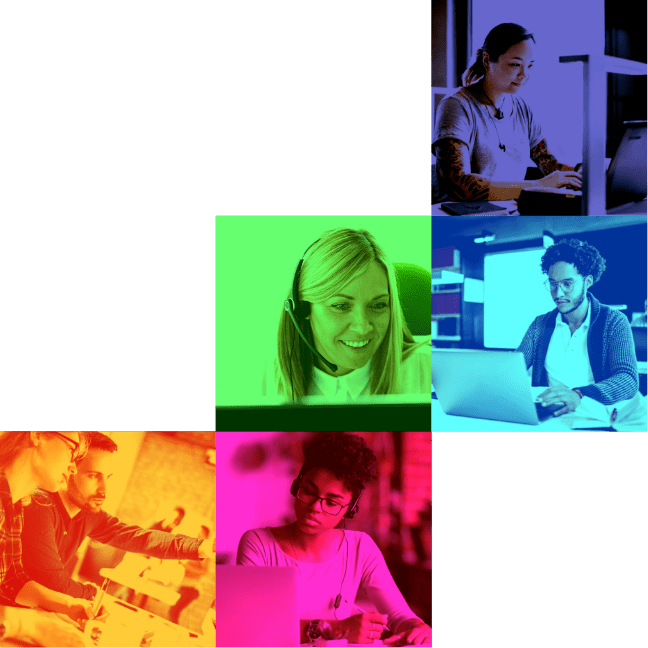 What does the DevOps Engineer Apprenticeship offer to your employees?
As a qualified Level 4 DevOps Engineer, your employees will be able to:
Write scripts and coding to meet your business' needs.
Develop and deploy software and cloud infrastructure.
Build and operate a Continuous Integration (CI) capability.
Implement and improve release automation and orchestration.
Use security tools and techniques for software development.
Evolve and define IT architecture.
Follow test driven development and ensure appropriate coverage.
What will your employees learn?
We ensure your employees receive the necessary knowledge, skills and behaviours that are not only required to meet industry standards but to provide organisations like yours with the skill sets to gain competitive advantages within the market.
Programme moudules
Introduction to DevOps
Linux
Cloud Platforms
Infrastructure as Code
Immutable Infrastructure
Databases: SQL & No-SQL
Scripting, Coding and Automated Testing
Continuous Integration / Continuous Delivery
Security
Monitoring and Alerting
Knowledge your employees will gain
A qualified Level 4 DevOps Engineer knows:
Continuous Integration – the benefits of frequent merging of code, the creation of build artefacts and ensuring all tests pass, with automation throughout – including common tooling.
The principles of distributed Source Control, including how to exploit the features of the tool, such as branching.
How to use data ethically and the implications for wider society, with respect to the use of data, automation and artificial intelligence within the context of relevant data protection policy and legislation.
The business value of DevOps in terms of Time, Cost, Quality, with an emphasis on building in internal Quality throughout the lifetime of the product.
A range of modern security tools and techniques – e.g. threat modelling, vulnerability scanning and dependency checking, with a general awareness of penetration testing – in order to deal with threats and attack vectors within code and across the cyber domain.
A range of problem solving techniques appropriate to the task at hand, such as affinity mapping, impact maps, plan-do-check-act/Deming.
General purpose programming and infrastructure-as-code.
Immutable infrastructure and how it enables continuous refreshing of software, namely the updating of the operating system, container and security patching.
How the user experience sits at the heart of modern development practices in terms of strategies to understand diverse user needs, accessibility and how to drive adoption.
Monitoring and alerting technologies and an awareness of the insights that can be derived from the infrastructure and applications – collecting logs and metrics, configuring alerting thresholds, firing alerts and visualising data.
The persistence/data layer, including which database/storage technologies are appropriate to each platform type and application when considering non-functional and functional needs; e.g. monolith, microservice, read heavy, write heavy, recovery plans.
Automation techniques, such as scripting and use of APIs.
Test Driven Development and the Test Pyramid. How the practice is underpinned by unit testing, the importance of automation, appropriate use of test doubles and mocking strategies, reducing a reliance on end-to-end testing.
The principles and application of Continuous Integration, Continuous Delivery and Continuous Deployment, including the differences between them.
How best to secure data; e.g. encryption in transit, encryption at rest and access control lists (ACL).
What an API is, how to find them and interpret the accompanying documentation.
Pair/mob programming techniques and when to use each technique.
Architecture principles, common patterns and common strategies for translating user needs into both cloud infrastructure and application code.
The difference between Software-as-a-Service (SaaS) v bespoke v enterprise tooling and how to make an informed choice that suits each use case.
Skills your employees will develop
A qualified Level 4 DevOps Engineer can:
Translate user needs into deliverable tasks.
Deploy immutable infrastructure, and install, manage and troubleshoot monitoring tools.
Navigate and troubleshoot stateful distributed systems, in order to locate issues across the end-to-end service.
Apply a range of cloud security tools and techniques – e.g. threat modelling, vulnerability scanning, dependency checking, reducing attack surface area – incorporating these tools and techniques into the automated pipeline wherever possible.
Assess identified and potential security threats and take appropriate action based on likelihood v impact.
Employ a systematic approach to solving problems, using logic and hypotheses / experimentation to identify the source of issues.
Automate tasks where it introduces improvements to the efficiency of business processes and reduces waste, considering the effort and cost of automation.
Engage in productive pair/mob programming.
Write tests and follow Test Driven Development discipline in various different contexts.
Release automation and orchestration as part of a Continuous Integration workflow and Continuous Delivery pipeline, automating the delivery of code from source control to the end users.
Code in a general purpose programming language.
Specify cloud infrastructure in an infrastructure-as-code domain-specific language.
Interpret logs and metrics data within the appropriate context to identify issues and make informed decisions.
Write code in such a way that makes merging easier and facilitates branching by abstraction – i.e. feature toggling.
Conduct incremental refactoring by applying small behaviour-preserving code changes to evolve the architecture.
How is the DevOps Engineer Apprenticeship structured?
The Level 4 DevOps Engineer is comprised of 20 months of training followed by up to four months for assessment.
Our remote learning approach gives your employees the best of both worlds – live lessons with an expert trainer, combined with the flexibility to learn in an environment that suits them.
Your employees keep the same apprenticeship trainer throughout the apprenticeship, who delivers all training sessions and sets and marks all workplace based projects.
Your employees are supported by a dedicated progress co-ordinator every step of the way. Regular review meetings every four weeks ensure we're able to keep your employees on track and spot any potential issues before they arise.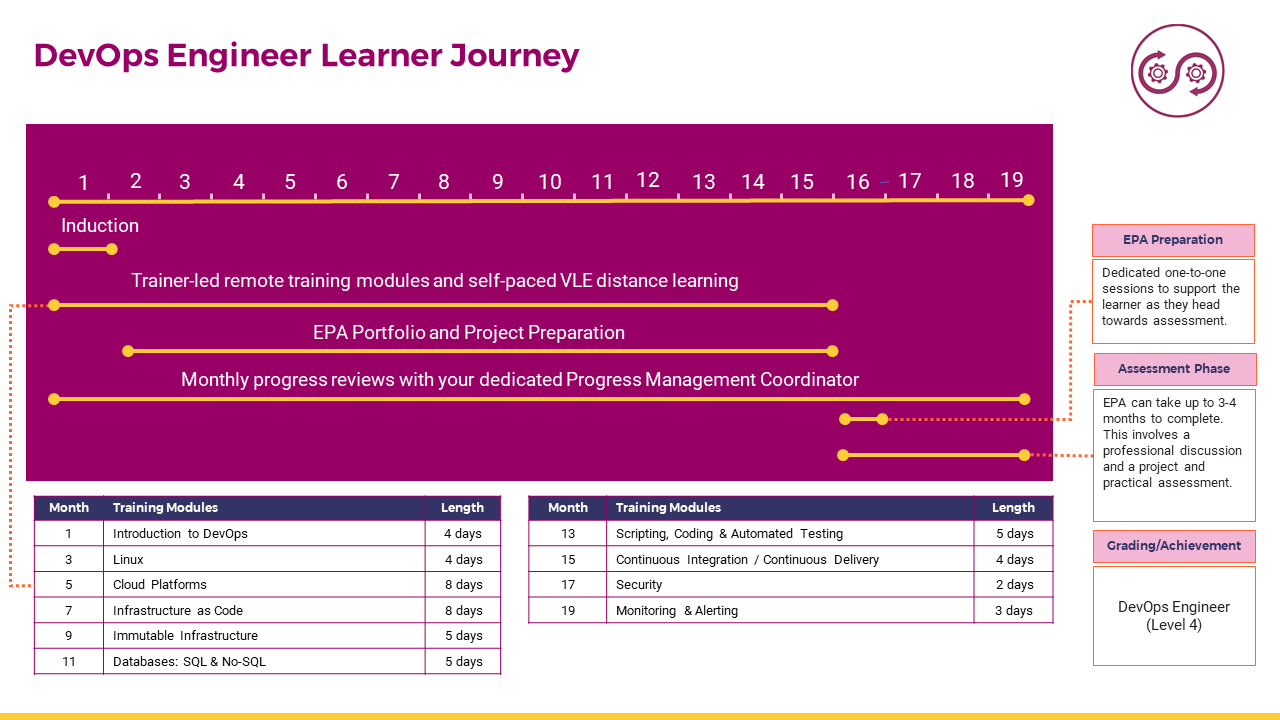 Assessment
Each programme has a standard set of competencies – Knowledge, Skills and Behaviours – that are focused on throughout the programme.
The Knowledge, Skills and Behaviours are evaluated through the End-Point Assessment (EPA), which is completed in the last month of the apprenticeship. The EPA is conducted by an external assessor and will include the following elements that need to be completed in order to finish the apprenticeship.
A professional discussion
A project
A practical assessment
Entry requirements:
Entry requirements vary depending on the employer's requirements.
A Level 3 qualification such as A levels, NVQs, a BTEC or a Level 3 Apprenticeship.
Minimum 5 GCSEs with grades 9 to 4/A* to C, including English and maths.
Apprentices that don't have GCSE English and maths at the required level undertake mandatory Functional Skills as part of the apprenticeship to achieve Level 2 prior to End Point Assessment.
Cost
This programme costs £17,000 – all covered through the Apprenticeship Levy. Even if your business doesn't pay into the Levy, the Government funds 95% of all apprenticeship training, with your business only paying 5%.