Apprenticeship

Level 4 Data Analyst
Enquire about this apprenticeship
Call our team on 0113 3500 333 Lines open 8am-6pm GMP (Mon-Fri)
Request callback
The ability to make decisions using insights from customer and market data provides a competitive advantage for any business. Even today, many firms are unable to capitalise on the information within their business due to a shortage of experts with specialist or technical data skills.
The Level 4 Data Analyst Apprenticeship will help you to provide your key stakeholders and decision makers with insights that support better decision making and respond faster to market trends.
Key information
Duration

15 months plus assessment

Study modes

Online teaching, coaching and workplace development

Qualifications Achieved

Level 4 Data Analyst
How does the Data Analyst Apprenticeship benefit your business?
The Level 4 Data Analyst Apprenticeship will help your organisation recruit new talent into data specialist roles or upskill existing employees who are exposed to greater volumes of data. This will develop the ability in your business for analysis and generate insights to inform better decision making, which is critical to any modern business.
Data analysts will typically work across multiple projects to collect, organise, cleanse and study data. They use a variety of methods of analysis to predict and review trends, which can deliver a commercial advantage for your organisation. With the proliferation of real-time data, your analysts can better understand trends which have an effect on your business. In addition, this can help your organisation to predict demand, costs and revenue, while identifying risks and opportunities.
From a business perspective, your employees will explore methods of analysis to predict and review trends, which can deliver a commercial advantage for your organisation. They will also explore the thinking behind how to present that data effectively to stakeholders in your business. Alongside this, your employees will also review big data tools and focus on future data.
This apprenticeship provides great progression opportunities and upon successful completion, further study is available on the Level 6 Digital and Technology Solutions Professional Degree Apprenticeship or Level 7 MSc Applied Data Analytics Apprenticeship.
Typical job roles include: Data Analyst, Departmental Data Analyst, Energy Data Analyst, Junior Analyst, Marketing Data Analyst, Problem Analyst.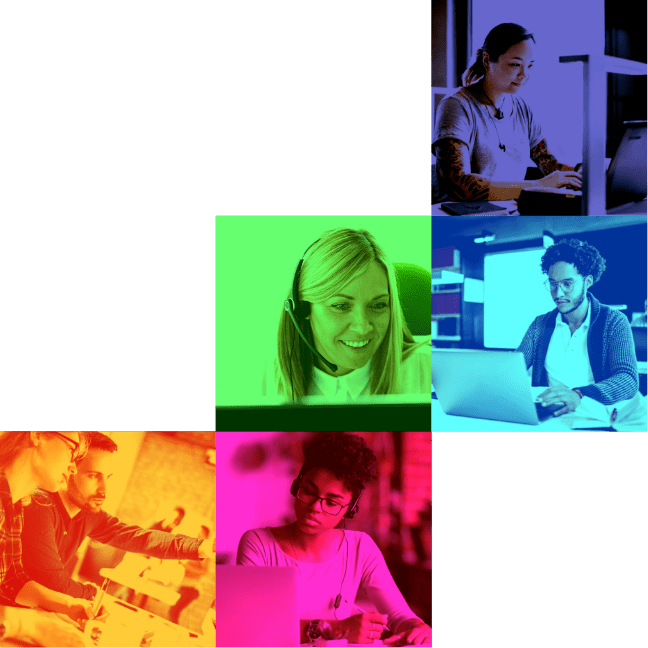 What does the Data Analyst Apprenticeship offer to your employees?
As a qualified Level 4 Data Analyst, your employees will be able to:
Ascertain how data can be used to answer questions and solve problems.
Gather, inspect, cleanse, transform and model data to identify patterns and trends.
Present data and produce dashboards and reports to aid visualization and comparison.
Use advanced theory and diverse techniques to harness greater understanding.
Inform decision-making and make recommendations using an evidence-based approach.
Ensure your business processes and procedures are compliant with data protection legislation.
This role is beneficial to employees in a number of data roles including: Data Analyst, BI Analyst, MI Analyst, Reporting Analyst and Performance Analyst, Data Manager, Data Scientist, Data Modeller, Data Architect and Data Engineer.
What will your employees learn?
We ensure your employees receive the necessary knowledge, skills and behaviours that are not only required to meet industry standards but to provide organisations like yours with the skill sets to gain competitive advantages within the market.
Programme modules
Introduction to Power BI
Foundation Maths
Data Analysis Concepts
Data Analysis Tools
Advanced Analytics, Theory and Methods
Advanced Analytics, Technologies and Tools
Python for Data Science
Statistical Analysis Methods
Knowledge your employees will gain
A qualified Level 4 Data Analyst knows:
The principles of the data life cycle and the steps involved in carrying out routine data analysis tasks.
The principles of data, including open and public data, administrative data, and research data.
The differences between structured and unstructured data, and the fundamentals of data structures, database system design, implementation and maintenance.
The principles of user experience and domain context for data analytics.
The approaches to combining data from different sources, the quality risks inherent in data and how to mitigate or resolve these.
Organisational data architecture, approaches to organisational tools and methods for data analysis.
The principles of statistics for analysing datasets, descriptive, predictive and prescriptive analytics.
Skills your employees will develop
A qualified Level 4 Data Analyst can:
Implement the stages of the data analysis lifecycle.
Apply principles of data classification within data analysis activity.
Analyse data sets taking account of different data structures and database designs.
Use a range of analytical techniques such as data mining, time series forecasting and modelling techniques to identify and predict trends and patterns in data.
Undertake customer requirements analysis and implement findings in data analytics planning and outputs.
Identify data sources and the risks and challenges to combination within data analysis activity.
Apply statistical methodologies to data analysis tasks and apply predictive analytics in the collation and use of data.
Collate and interpret qualitative and quantitative data and convert into infographics, reports, tables, dashboards and graphs.
Use data systems securely to meet requirements and in line with organisational procedures and legislation including principles of Privacy by Design.
How is the Data Analyst Apprenticeship structured?
The Level 4 Data Analyst is comprised of 15 months of training followed by up to three months for assessment.
Our remote learning approach gives your employees the best of both worlds – live lessons with an expert trainer, combined with the flexibility to learn in an environment that suits them.
Your employees keep the same apprenticeship trainer throughout the apprenticeship, who delivers all training sessions and sets and marks all workplace based projects.
Your employees are supported by a dedicated progress co-ordinator every step of the way. Regular review meetings every four weeks ensure we're able to keep your employees on track and spot any potential issues before they arise.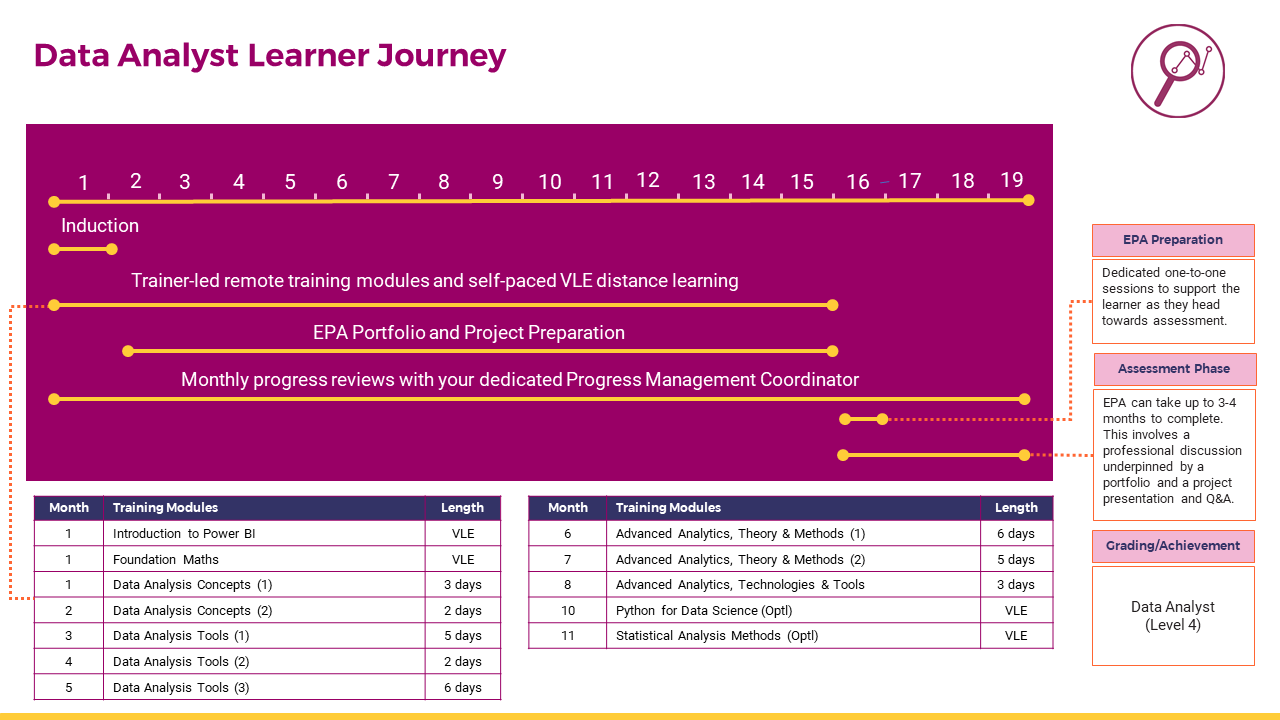 Assessment
Each programme has a standard set of competencies – Knowledge, Skills and Behaviours – that are focused on throughout the programme.
The Knowledge, Skills and Behaviours are evaluated through the End-Point Assessment (EPA), which is completed in the last month of the apprenticeship. The EPA is conducted by an external assessor and will include the following elements that need to be completed in order to finish the apprenticeship.
A portfolio
A professional discussion
Project presentation with Q&A
Entry requirements:
Entry requirements vary depending on the employer's requirements.
A Level 3 qualification such as A levels, NVQs, a BTEC or a Level 3 Apprenticeship.
Minimum 5 GCSEs with grades 9 to 4/A* to C, including English and maths.
Apprentices that don't have GCSE English and maths at the required level undertake mandatory Functional Skills as part of the apprenticeship to achieve Level 2 prior to End Point Assessment.
Cost
This programme costs £15,000 – all covered through the Apprenticeship Levy. Even if your business doesn't pay into the Levy, the Government funds 95% of all apprenticeship training, with your business only paying 5%.