L3 Information Communication Technician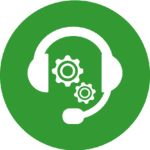 Amnesty International
Level 3 Information Communication Technician
Title: Service Desk Analyst – First Line Support Apprentice
Company: Amnesty International  
Full Address: Human Rights Action Centre, 17-25 New Inn Yard, London, EC2A 3EA
Weekly Hours Worked: 09:00am to 5:30pm
Salary: £20,029
Please contact: josh.ankers@estio.co.uk or call 01133 500 333
About the company:
Amnesty International is a global movement of more than 7 million people who campaign for a world where human rights are enjoyed by all.
Amnesty reach almost every country in the world and have: – more than 2 million members and supporters who drive forward our fight for rights – more than 5 million activists who strengthen our calls for justice Our vision is for every person to enjoy all the rights enshrined in the Universal Declaration of Human Rights and other international human rights standards.
Amnesty are independent of any government, political ideology, economic interest or religion, and are funded mainly by our membership and public donations.

 After more than 50 years of groundbreaking achievements,
Amnesty International is now embarking on a major process of evolution, to adapt to the dramatic changes in the world we operate in, and to increase the impact of our human rights work
.Brief job description:
Estio Training have an exciting new opportunity for a Service Desk Analyst with Amnesty International, a non-governmental organization based in London.
Job Description:
The First Line Service Desk Apprentice provides first line support to all AIIS end users, delivers high level of Customer Service, ensures that all tickets are resolved in a timely manner and maintains the quality of data recorded in the service desk tool.
Your duties and responsibilities in this role will consist of:
Provide first line support and customer service to all AIIS and Movement end users.
Answer calls coming into the Service Desk Portal in a timely manner
Ensure the IT Department's clients are always communicated to effectively.
Keep users up to date with the status of their issues and ensure calls are resolved to the satisfaction of the user before calls are closed
Perform the role of call assigner in order to assigned calls to the correct and relevant technical resource or support team
Work with all members of the service desk and systems team to ensure transactional data quality within the service desk tool.
Qualifications:
5 GCSEs grades A*-C/9-4 or equivalent (including English Language and Maths)
Skills Required:
Some experience in a customer service or support role
Excellent communication skills with the ability to accurately convey information
Demonstrable understanding of Good Customer Service
Energetic, enthusiastic and a desire to learn
Ability to learn technical concepts
This role is not strictly a technical role but exposure or basic understanding of the following technologies would be an advantage.
Microsoft Windows desktop operating system environments
Windows Active Directory
Office 365 and Microsoft Office products
HOW WE WORK – OUR BEHAVIOURS: ​
​Our organisational culture; which essentially represents how we behave, our working relationships and our ability to collaborate as a movement, underpins everything we do and is pivotal to the success of our impact. Our five behaviours form the basis of the type of culture we want to have in Amnesty:
Accountable – I consistently strive to reach my goals in a thorough, timely way that I can be proud of, and I re-empower others to do the same.
Considerate – I support my colleagues and try to find out what motivates them to do their best, and what pressures they are under, so that I can consider this when we work together.
Creative – I continuously look for new and creative solutions and encourage others' ideas so that we can adapt and succeed in an ever-changing and uncertain global environment
Decisive – I make sound judgements within my work so that a project or activity can progress with pace and confidence.
Respectful – I treat my colleagues with equality and dignity, and assume they have integrity. I value the different perspectives of my colleagues as well as my own and show them that their contributions and expertise matter.
Future prospects:
The role offers long term security and the opportunity to progress into a permanent position.
Training to be provided:
The Estio Training programme gives young people the opportunity to get hands on experience in the IT industry whilst still employed in a real paid job with no cost or debt.
Learners will receive technical training online. Whilst in the workplace, apprentices will also receive continual coaching, help and guidance from a dedicated team who will be there to ensure that they get the most from their work experience.
This apprenticeship will give you a Level 3 Information Communication Technician with training in areas such as:
Functional skills, Maths L2 and English L2
Introduction to IT Support
Stability and Resilience
Testing and Problem Solving
Introduction to Networks
Security
Cloud Systems
Support Teams
Specialism (Digital Communications, Network or Support)
Some of these modules will include an option to take an examination to receive a professional certificate.