L3 Information Communication Technician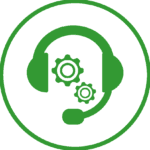 Masternaut
Level 3 Information Communication Technician
1st Line Support Analyst
Masternaut
Priory Park, Great N Rd, Aberford, Leeds, LS25 3DF
£17,500 – £20,000
Please contact Ciara.glynn@estio.co.uk or call 01133 500 333
About the company:
Masternaut is a Michelin Group Company, within its Services & Solutions division.
We are a market leader in a high-growth, competitive technology industry.
We created the field of vehicle telematics 20 years ago, and have maintained a leadership role in the industry. Following a period of transformation and repositioning, Masternaut launched a growth strategy in 2017 covering go-to-market, product, and a significant investment in talent. We have recently been acquired by Michelin, which further boosted our resources for growth in Europe.
We deliver an IoT solution which is invaluable to our customers in managing and optimising their fixed and mobile assets. The IoT solution includes a high performance SaaS platform and a family of embedded devices which are installed in assets and vehicles to provide real-time telemetry data feeds. The solution helps our clients drive significant operational improvements: reducing fuel consumption, increasing vehicle utilisation (which reduces the number of vehicles on the road), and improving the safety and productivity of their staff. In 2016, our clients reduced fuel consumption by 90 million litres and avoided the release of 230 million kg of CO2 into the atmosphere.
Within the rapidly expanding area of the Internet of Things (IoT), telematics is one of the most mature products with proven commercial application, delivering 3x to 5x ROI for our customers. We are a market leader in this developing industry with huge potential for positive impact on our communities. The adoption of telematics in commercial vehicles is still below 10% globally and growing rapidly.
Masternaut at a glance: 20 years in commercial vehicle telematics, 5,000 customers, 220,000 vehicles tracked, ISO 27001 certified and GDPR compliant, 350 employees across Europe, €50m revenue.
Brief job description:
Estio Training have an exciting new opportunity for a 1st Line Support Analyst with Matsernaut, a High Growth, Competitive Technology Company based in Aberford, Leeds.
Job Description:
As with many technology leaders, Masternaut is committed to maintaining cutting-edge systems and business processes. In the last two years, we have invested a considerable amount in the latest enterprise platforms.
The 1st line support analyst will be responsible for managing the internal service desk for our back office systems. This will primarily be for Salesforce and Netsuite and is a great opportunity to gain further experience in these systems.
Our back office systems are critical to the business and are continually being developed to provide new and increasing efficiencies. As such the 1st line support analyst will be at the front of providing support in a dynamic and changing environment. We are looking for someone who is technically minded with a desire to learn and grow and the ability to adapt.
Your duties and responsibilities in this role will consist of:
This role is ideal for someone who is seeking an opportunity to actively work on Salesforce and Netsuite
Handle basic administrative functions including user account maintenance, reports and dashboards.
Manage the day to day requests from the business.
Communicate with all areas of the business. Providing feedback to users and ensuring requests are sent to the correct areas and dealt with correctly.
Support the Enterprise Architect and back office team members in configuring our back office systems
Qualifications:
5 GCSEs grades A*-C/9-4 or equivalent (including English Language and Maths)
Skills Required:
Preferably experience working in a support role
Strong ability to communicate through all levels and areas of the business
Preferably experience of CRM systems such as Salesforce
Preferably experience of supporting finance applications
Excellent problem solving and analytical skills
Identify system and process optimisation
Attention to detail and ability to learn quickly
Be proactive and own all work from start to completion with can do attitude
Masternaut's Philosophy on Talent :
With a Silicon Valley-like focus on building a high-growth, scalable technology business, we are looking for top talent that fits with our ambitious and fast-paced culture. When recruiting, we look for ambition, entrepreneurial spirit, demonstrated discipline in execution, and the potential for growth. In return, we offer a dynamic environment with like-minded team members, positioned in an exciting industry with great opportunities for professional growth.
We are fundamental believers that having the right people is critical to our success: attracting, developing, and retaining talent will always be a core focus at Masternaut.
Future prospects:
The role offers long term security and the opportunity to progress into a permanent position.
Training to be provided:
The Estio Training programme gives young people the opportunity to get hands on experience in the IT industry whilst still employed in a real paid job with no cost or debt.
Learners will receive technical training online. Whilst in the workplace, apprentices will also receive continual coaching, help and guidance from a dedicated team who will be there to ensure that they get the most from their work experience.
This apprenticeship will give you a Level 3 Information Communication Technician Standard with training in areas such as:
Functional skills, Maths L2 and English L2
Introduction to IT Support
Stability and Resilience
Testing and Problem Solving
Introduction to Networks
Security
Cloud Systems
Support Teams
Specialism (Digital Communications, Network or Support)
Some of these modules will include an option to take an examination to receive a professional certificate.